Published by Davide Pappalardo on February 17, 2019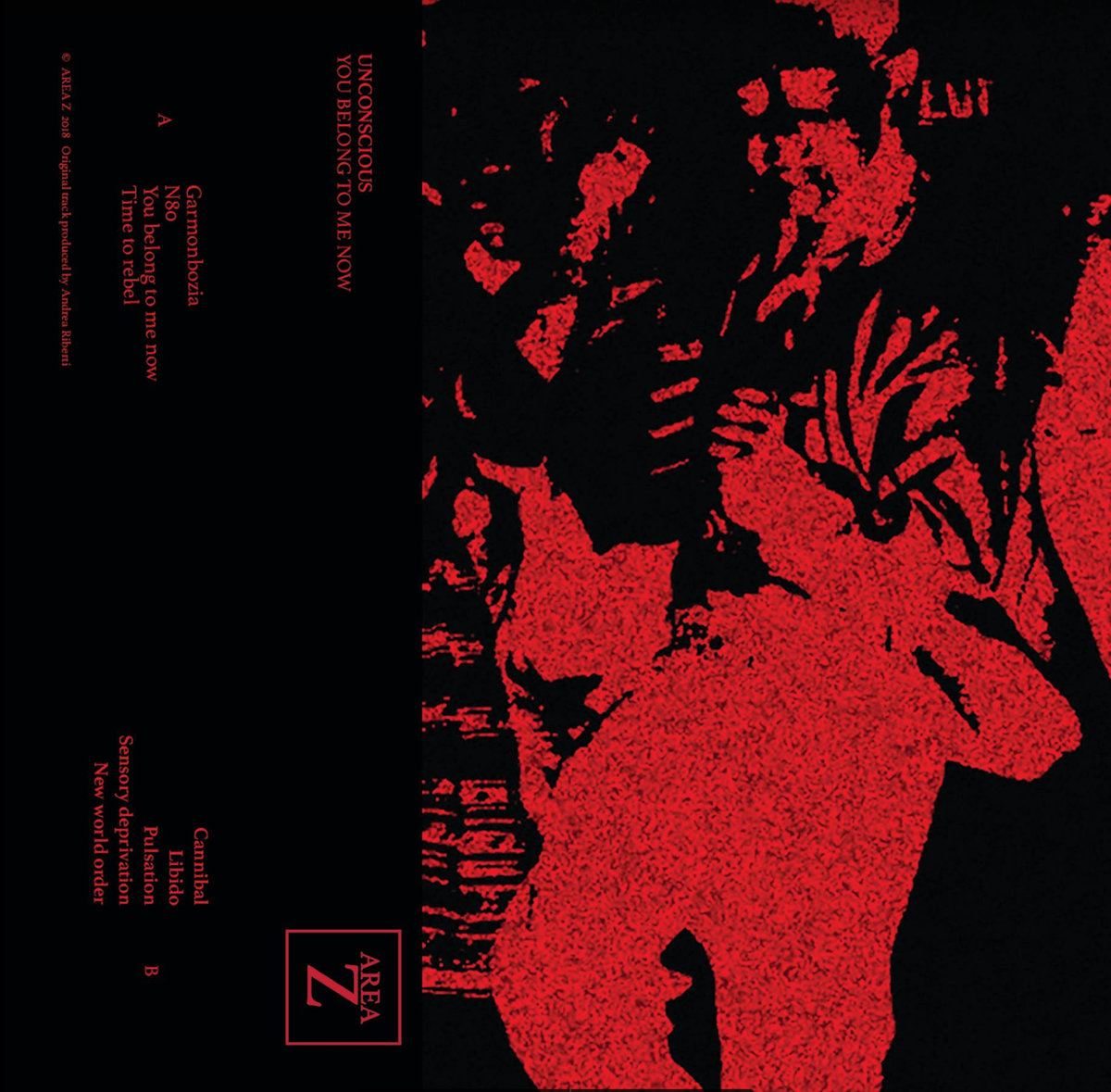 Italian producer Andrea Riberti returns with his techno/EBM project called Unconscious. It started as a post-industrial influenced output, then evolved into a mix of techno, EBM, and new beat elements. After some EPs on labels like Blackwater (La Caduta Di Lucifero, 2017), Blacksilk (Clerical Perversions, 2018), and a limited cassette album on NEN Records (Chaos Theory, 2017), he has recently collaborated with German dark techno artist HKKPTR on the split cassette Countermeasures (X-IMG, 2018).
You Belong To Me Now it's the name of his new effort for Area Z, a 9-track C-60 tape with grim EBM textures, acid elements, synthwave passages, and aggressive techno-industrial rhythms. The result is a work mixing the best of different worlds – it keeps the rawness and punk attitude of early EBM, as well as the cold feeling and obsessive nature of techno-industrial, and the retro-sci-fi atmospheres of synthwave/retro wave.
Garmonbozia starts with old-school vibes coming from filtered vocals and ominous soundscapes with dark ambient qualities, before it turns into a straightforward techno/EBM attack with strong rhythmic patterns and throbbing bass-lines. The track perfectly encapsulates his world, enriched by eerie effects and guided by pounding lines. The Title track showcases enthralling sounds and stomping beats, mixing 90's bass-lines, claps, and vicious acid atmospheres, while Time to rebel starts as a grim affair full of dark sounds and shrilling, distant effects, before it ventures into full-mode synthwave/EBM. Hypnotizing rhythmic obsessions and brooding sequences are underlined by steel-like beats and grinding loops.
Cannibal indulges in even more evocative elements, keeping the retro wave vibes while developing a marching crescendo. The track employs droning effects and eerie atmospheres, giving us a cinematic adventure close to the darker side of bands like Pertubator and Lazerpunk. Libido is a stomping EBM piece with frantic sequences and well-structured rhythms; it doesn't take us by the throat, instead it develops a serpentine track with evocative elements. New world order closes the cassette with it's 80's sound, enriched by throbbing bass-lines and nervous, nebulous soundscapes. It adds engaging drums and steady snares, never going full-force on the listener, but keeping a disquieting modus operandi.
Unconscious reaches with You Belong To Me Now a clearer vision of his music, giving the right place and space to the different facets he has developed during the years. Old-school EBM bass-lines, captivating synths and acid techno mantras concur to a crawling and sometime eerie sound. Instead of going on full-speed mode, he prefers to build sonic-worlds full of tension, restraining some elements and giving more space to others. The result is something you could listen in a club, but not only there – the music can really be enjoyed during a focused listening session. A great work.
Label: AREA Z
Rating: 8