Published by Davide Pappalardo on March 12, 2016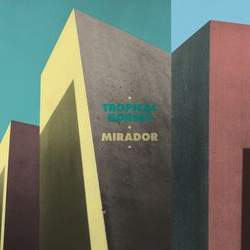 Born as a surf / garage band with lo-fi elements, the project Tropical Horses has evolved in a more pop but, at the same time, more "punk" direction, developed by collaborations with bands like Princesse and Albinos Congo (that collaborated with Tropical Horses in 2013 in the album Albinos Congo VS Tropical Horses – Double K.O), and some underground EP's; now, the time has come for the album we are going to review, the first full album of the band, Mirador, published as a vinyl by Anywave / Montagne Sacrèe Records.
As we already said, we find here nine episodes where an experimental sound is developed by mixing industrial, psychedelic music, noise, ethnic elements and shoegaze in a bizarre but fervid artistic union, with positive results; the recall of the more experimental and acid 60's and 70's is clear, but at the same time we have an inexplicable atmosphere by the mix of elements that shouldn't work together on paper, something we can't deny. It's music for the more open minded people, where, at the same time, we find a direct rhythm that give us even a physical and immediate experience between indie and dark electronic music.
We start with Satanic prayers and its dramatic orchestral noise, upon which we have a pulsating bassline with a 70's taste; then, a hypnotic sound is developed by loops, where filtrated vocals are added in an alien and lysergic atmosphere. A sort of 70's b-movie soundtrack with even rhythmic cymbals and abyssal lines; a union of elements where even the guitar has its place, just like a 4/4 drum machine. In the last section, the track assumes a more ambient connotation, but then it grows in its intensity, giving us a majestic conclusion with a strong rhythmic session.
Dead gaze exorcism welcomes us with a tribal rhythm and pulp movie-like guitars, accompanied by a suitable singing; then, we have a bass motif with noise explosions that remind us of Health. Indie and electronic music are mixed while the drums are vivid and menacing; cosmic lines are used in an alternation between motifs, giving us a dreamlike and dark atmosphere. There is no shortage of majestic and epic melodies, in a no conventional songwriting where elements that shouldn't be together by paper are perfectly linked one to each other; a short pastiche with a well developed structure.
Here comes your ghost gives us a more cosmic and dreamy Primal Scream, thanks to organ keys and crawling movements, where the voice is dominated by a doublet full of effects; once again the bass is used as a rhythmic ground, while pauses and pulsations are alternated in a game of contractions and explosions. Delicate melodies welcome us with keys and groovy cosmic lines; the result is a mysterious but living atmosphere, which is not cold, full of musical colours.
Rivers of sadism is developed by its majestic ambient tones, before it opens up in shoegaze rhythms and evocative echoes, giving us a semi-ritual mantra soon enriched by lascivious vocals; once again, a lysergic and sacramental atmosphere dominates the scene, but it isn't too dark, akin to an opiate-inspired dream. Distorted riffs have their place in a nice post punk moment that recalls the song Atmosphere by Joy Division and, at the same time, the psychedelic music of the end of the 60's; then piano's keys are companions of the other instruments in a pleasurable but tightened cacophony, which completes the picture in a more disturbing way, even with vocal gurgles.
Wild night surprises us with 70's rock sounds, filtrated by a noise vortex with an acid taste; tribal rhythms are linked with a malefic funk, giving us a unique atmosphere, a trademark of the band. A well crafted pastiche, where we have no shortage of pulsating pauses with buzzing chords and repeated vocal mantras; a jungle section completes the picture, giving us a track that is really composed as if it was the union of almost three different songs, mutating and mixing them in different ways.
Depressed is only the beginning is the end of the album, opened by astral synths and pulsating rhythms, where a minimal and dry drum machine is placed together with cosmic alarming noises and various effects; a subtle mantra is enriched by grim layers of sound, guiding us with a hypnotic and ethereal crescendo in a majestic way where everything is charming, but under control. Minimal keys and radio-like disturbances complete the scene in an episode where the electronic side of the project dominates with sequences as well as with motifs characterized by filtrated keys that give us enveloping sounds; the surprising end gives us an ethereal guitar arpeggio, which is then accompanied by a rhythmic crescendo with an epic twist, closed by an exhilarating psychedelic explosion.
So, Tropical Horses's Mirador is an articulated album with an omnipresent lysergic and dark atmosphere which isn't linked so much to a gothic motif, but to an LSD bad trip transposed into music; 60's music moments are mixed with a distorted shoegaze sensibility, while keys and groovy synths are used giving us a cosmic, but at the same time acid, taste. That special zone in experimental music between Velvet Underground, Suicide, My Bloody Valentine and Primal Scream is here evoked, a zone where the only rule is the inventive in the craft of creating vivid suggestions; and, in this album, there's a bullseye for sure, and we feel like to recommend this work to the lovers of the more obscure and chaotic side of psychedelic music.
Label: Anywave / Montagne Sacrèe Records
Vote: 7, 5