Published by Davide Pappalardo on February 23, 2019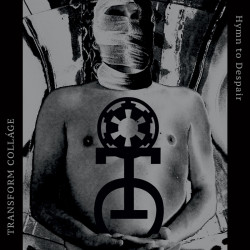 Transform Colláge is the rhythmic industrial/dark electro project of German musician Sven Bussler (Wappenbund, Ophir, Coinside, Sigrun Heid) dedicated to a peculiar sound recalling the motifs and atmospheres of early-mid 90's European electro-industrial scene. Obsessive and grinding rhythms, grandiose orchestral sounds, shouted vocals with an aggressive edge are the main elements. If you are familiar with names like Placebo Effect, yelworC, amgoD, Das Ich, early Suicide Commando and Wumpscut, the more caustic side of Pure Ground, you can get a hint about what you are going to experience: dark neo-classical melodies, rhythmic loops, bombastic song structures.
Hymn To Despair it's the project first work after twenty years of absence from the scene, a 12-track C-60 Tape licensed by the Italian label Infidel Bodies. We find here a sonic venture into a sound which doesn't know or want compromises and that stay clear of fashionable or easy solutions. The old-school EBM/electro elements don't come from the current revival of the genre in the techno-industrial scene as a trendy curiosity – you can understand from the songwriting Bussler has been following and producing this kind of music for a very long time, and he is no upstart.
A silent place works as a sort of intro to the album, an abrasive soundscape with distorted arpeggios and ominous synth sounds. Melancholic melodies evoke a minimal atmosphere soon reached by vocals full of pathos and anguish, and martial drums enrich the solemn sound of the track. Death disco is an explosion of aggressive hubris and militant attacks, a danse macabre supported by throbbing lines and steel-like drum kicks. Ancient melodies and hypnotizing pulsations guide us toward shouted vocals in German, recalling names like  the aforementioned Das Ich and Wumpscut. Orchestral passages deliver enthralling pauses, preparing us for another round of rhythmic madness.
Infidel bodies (probably a nod to the label) ventures in rhythmic-noise territory, showcasing broken structures and engaging martial drum machines. The track serves as a harsh assault suddenly interrupted by nostalgic keys, upon which danceable beats and captivating vocal refrains are layered. Second skin is a pummeling industrial piece with distorted sounds and the usual vocal rage. Ominous organ sounds complete the number, keeping the Gothic vibe among the abrasive atmosphere.
Starting from Transform we encounter older tracks recorded in 1996; menacing arpeggios and thundering rhythms are the main ingredients for a caustic delivery tempered by dark synths and obsessive rhythmic patterns. Your paradies is another old-school piece in which the lesson of Dive and The Klinik is reworked in an even more aggressive and harder version, giving us aural madness with venomous vocals. Tribal order ends the album with its soothing classical melodies matched by syncopated rhythms and frantic arpeggios, an instrumental track with club appeal without forfeiting the trademark sound of the project.
Transform Colláge is an ancient beast, but not a dinosaur: its music is not derivative, even if we can clearly identify its roots into 90's motifs and find a linkage with other bands and projects. A rhythmic obsession dominates Hymn To Despair, mitigated by neo-classical melodies evoking the dark ages and epic soundscapes, while the vocals are an expression of anger and existential rage delivered with bile and tension. A real old-school work, but not a dated and out-of-time album; in a period in which proper EBM music is experiencing a resurgence thanks to its rediscovery by the post-punk and techno community, it was only a question of time before its darker and more aggressive side would resurface with a vengeance.
Label: Infidel Bodies
Rating: 8