Published by Richard Fowler on June 29, 2019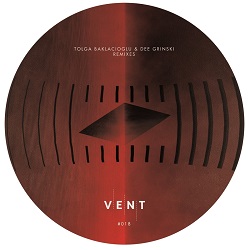 Turkish artist Tolga Baklacioglu and his Vent label, have been quietly putting out impressive, no nonsense leftfield techno vinyl's for a number of years now, while the label owner himself has become quite prolific with his output in the last 12 months, with two notable collaborative albums, 2018's Your Secret Face with Moscow based Dee Grinski, and earlier this year saw a union with New York artist MAYa, on Kina. It's the former LP that gets the remix treatment here, from four artists, each of them from very different corners of the scene.
Three well established figures, Samuel Kerridge, Ryo Murakami, and Svreca appear alongside relative newcomer, Isabella, who reworks Avoidance paranoid in the wake of her Whistle EP, a very fine contribution to Peder Mannerfelt's label; retaining its machine like rhythm, but shattering Grinski's vocals, she injects funky notes of metallic reverb, over gleaming synths, in a killer piece of wonky, outsider techno.
Heavy weights Kerridge and Murakami offer up reinterpretations of Order from the chaos of death; On the opener, Mancunian Kerridge holds nothing back with a pummeling amplified drum track, forming the engine room of a grueling, industrial electro rework, where a distorted, menacing bassline converges with delicate hi-hats and drifting oscillating synths; the haunting vocals appear as the ghost in the machine, of an intensely mechanical workout.
Japanese artist Murakami darkens the already pitch black ambiance on his noisy rework, giving Grinski's vocal a little more prominence in a drone piece that's completely saturated with low end throbbing, mutated just a little, but consistent with the original, before finally introducing sharp wooden snares, that strike thrice in succession, taking the undercurrent of rawkus tribal percussion into more ritualistic realms.
Finally, Svreca renders an unapologetic, dancefloor focused rework of Hissiyat, neutralizing some of it's toxicity, the caustic bubbling of the original reduced to a fizzing simmer, still carrying a considerable vibration with it nonetheless, all whilst remaining faithful to the relentless energy of the original, propelled now by stiffened kicks with typical 4/4 intensity.
The future is bright for Tolga and Vent it seems, perhaps no surprise to anyone who has been following the last few years, and as if proof were needed, then this stellar line up of remixers is testament to that. It will be interesting to see who appears on the Kina remix EP, assuming there is to be one, we live in hope. The Remix 12'' releases the 17th of May, followed by the digital on the 17th of June.
Label: Vent
Rating: 9 / 10