Published by Davide Pappalardo on August 10, 2016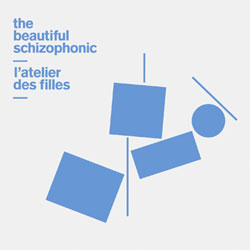 L'Atelier des filles is the new album licensed by Anywave from The Beautiful Schizophonic a.k.a Portuguese artist Jorges Mantas, a one-man project dedicated to dreamy ambient soundscapes, which evokes cinematographic scenarios and scores for movies existing only in our heads. He has already produced many solo albums and collaborations with other artists like  Gintas K , Yui Onodera and Pawel Grabowski, always following his taste for an ethereal, never violent or fast, sound based on field-recordings and layers of effects; the modus operandi doesn't change here, offering us again a cosmic, majestic, serene tour-in-sound, which guides us among ancient landscapes and distant places of the soul.
Our voyage starts with Naissance des pieuvres and its eternal loops that envelops the track in an atmosphere where a colossal Asian forest is evoked by the usage of few and simple sounds, adding by subtraction we could say, while She's from the internet gives us a movie score that could represent a moment of clarity, an existential epiphany pictured by evocative layers of sounds.
Giulia is based on a feedback in loop, which grows in its intensity without ever exploding, a perfect example of composed and controlled tension, and Nu follows the same pattern showing us a work where the sum of the parts is the real focus, using reverberations and field-recordings; the album finishes with D'une fantômette prisonnière and its emotive crescendo, a final journey to the deepest reaches of ourselves, once again perpetrated by few simple elements in an ambient suite in which any sound finds a symbolic correspondence with our mind and soul.
Nothing groundbreaking or really new for the well-versed ambient listeners, but a work that guide us in a constant state of trance, letting us sleep in an evocative dream where ancient places, distant times, our lives memories are merged in another dimension; a relaxing experience requiring an attentive listening session to be fully appreciated, an intimate journey to be lived as many times as we wish.
Label: Anywave
Rating: 7