Published by Alessandro Violante on August 28, 2016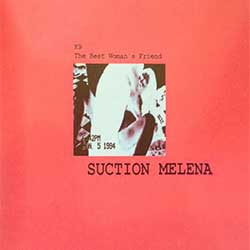 Listening to an album as the one here reviewed can be compared to visiting a Conceptual Art exhibition, something difficult to translate into words, being a complex and unique experience where the album is only the result of a long process prior to its definition, and what's reallyimportant isn't the final result in itself, rather the creative act in itself, what's behind the way it sounds.
Suction Melena, Le Cose Bianche's side project, could be defined as "experiential music", enclosed inside the well-defined boundaries of the medium where it was recorded, a sort of follow up of what has been explored by Giovanni Mori, in collaboration with Otur Boyd, in his last album Ten hot injections released by LUCE SIA, just like this one. In K9 – The best woman's friend, "The Italian power electronics poet", as defined by us in another review, puts away his inkwell and tries to contain a post-industrial cacophonic flow inside boundaries limiting its movements, but at the same time it allows the listener to listen to it at home or wherever he wants too.
Four perfectly merged  suites, characterized by a strong old school approach to power electronics. A tape expressing a taste for live performance unknown to the musician until few months ago, highlighted by a peculiar inclination to improvisation (or, in any case, this is what we think it is). Like a noise alchemist with an old school approach, Mori recalls to mind the genre's masters, modifying  it with his taste  and adding rather interesting but never too much highlighted rhythmic drafts, in order to stay in the guidelines of the genre.
Giovanni Mori gives us by  LUCE SIA, in some way, an "unstable" album subject of a neverending structural transformation (as it lacks a defined structure), having a cold and aseptic distortion with something in common with Atrax Morgue, and an expressive power that could be perceived at its best in a live performance or in a performative action shown into a museum.
With this album Mori proves he has a very strong attitude towards the creation of analogic and cacophonic minimal music, being not trapped into his L.C.B sound, able to move throughout different approaches and, all in all, he shows the listener, although the medium limits, a frame of his live performances. K9 – The best woman's friend is an alienating non-world, having slight sexual connotations (as can be found in the cover artwork and in the "songs" titles) in which the listener is called to lose himself in it for about forty minutes, a more than average example of retro Italian power electronics, a genre that hasn't any urge to evolve, which leitmotif is "to always stay the same". This could be seen either as a good or as a bad thing, the choice is left to the listener.
Label: LUCE SIA
Rating: 7