Published by Alessandro Violante on October 2, 2019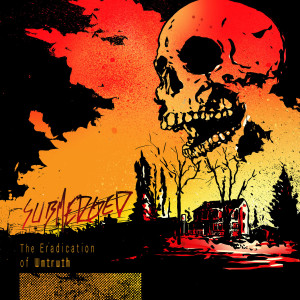 New York based drum'n'bass producer Submerged has been producing his music for twenty years, as well as running his label Ohm Resistance which has published albums by Scorn (Mick Harris), Diasiva (Monolog and Swarm Intelligence side project), Japanese noise master Merzbow, Gore Tech and many others. After having released several E.P. and full lengths together with Bill Lasswell, he has now come back with a collaborative E.P. entitled The eradication of untruth, featuring four new songs made in collaboration with four different artists: Ajamari, Savage, Masamune and Molecular.
The digital version of the release, available on Bandcamp, also includes a remix made by Triamer and Nagato of one of his old songs, Servant. A limited edition of 50 copies of a comic book made by Submerged himself and conceptually linked with the release is available through the Bandcamp page.
This new release contains powerful yet gentle and versatile, classy, drum'n'bass episodes having a modern touch but with an old school attitude. It showcases each typical element of this music style while being influenced by music styles quite "close" to it, such as crossbreed (listen to Cell, featuring Molecular). The eradication of untruth signs an important step in the evolution of Submerged as each song has its unique touch and soul. The opener Transformation has an exotic Eastern mood in which the melodic line and the classic drum'n'bass syncopated beat are beautifully melt together.
The listener should also pay the right attention to Surrealistic dystopian nightmares, featuring Masamune; a song capable of immersing him in a dark and dystopic mood, thanks to malignant old school sci-fi sounds recalling both George Orwell's 1984 and Wachowski brothers / sisters' Matrix trilogy. Expect an aggressive song with a vintage atmosphere and a morbid cybernetic synthline.
Also Abyss is a quite good song characterized by rougher sounds, whispered female vocals and a slower syncopated moment adding more weight to a heavier song. The remix of Servant , as it should be, detaches itself from the original version adding a more cinematic mood, also thanks to the important role of silence.
After twenty years of music, be it released by his label, be it made by himself, Submerged proves to be an interesting artist still capable of offering to the listener quality music, which should be carefully followed.
Label: Ohm Resistance
Rating: 7, 5