Published by Davide Pappalardo on June 7, 2020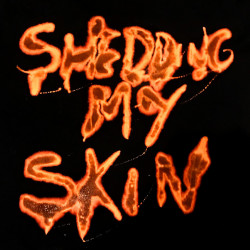 Steven Jones and Logan Sky of Visage are an already quite established artistic duo. They have released a series of albums and EPs like Corrupt State, Polaroids, The Electric Eye, Desire Lines and Rotating Angels. Their sound mixes new wave feeling, post-punk elements and elegant movements.
They now return with a 3-track digital release called Shedding My Skin, a work conceived during the Covid-19 lock-down and vastly influenced by it, published on Etrangers Musique. It features Jones' vocals delivering lyrics from Kevin O'Dowd (member of B-Rude and Boy George's brother) upon Sky's raw synth. The result is an other chapter in their peculiar sound informed by the artists' past experience, but with its own dimension.
Shedding my skin is the title track, a moody experience with solemn synth lines and melancholic vocals, rich in elegance and perfectly fitting the main theme of the release. Enthralling choruses guide us among minimal rhythms and effects full of pathos.
Toy (boxed) is a remix for a track coming from the album Rotating Angels, here rendered as a synth-based affair with sensual vocals and captivating riffing basslines. The atmosphere recalls 80's club sounds without ever sounding forced, a well crafted pastiche giving new life to the original.
New skin is a dub mix of the main track, featuring guitars from Henri Voltaire of F4ÇADE. Now liquid sounds with a shrilling motif showcase an almost instrumental version in which only a suave chorus survives from the original version. Languid guitar loops complete the evocative mantra, giving us an episode telling us its message with music instead of words.
An interesting addendum working as a gift from the artists, but it's important to note this is not a collection of unworthy tracks that were just sitting in a computer drive. The main track has a less upbeat mood than usual, and it really is informed by the whole pandemic situation, and the remixes fit this course while adding more rhythms with the first one, and more atmosphere with the second.
label: Etrangers Musique
Rating: 7,5