Published by Davide Pappalardo on July 26, 2016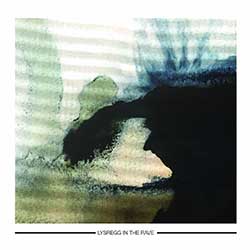 Squaric is the alter ego of Buenos Aires born Rodrigo Garcia, a project dedicated to hard, acid, industrial rave techno based on obsessive and strong rhythms full of backbeats, bass sounds and kickdrums; unrelenting, punishing dance music well presented in his 2015 debut under SUBSIST called Tournerfortia, and now shown again in the sophomore work Lysregg in the rave, licensed by Diffuse Reality, an ever growing and really interesting underground techno label already home to artists like Yuuki Sakai and Imugem Orihasam.
Lysregg in the rave is composed by five new tracks and six remixes by names like Dez Williams, Chris Moss, S S S S and Zosima, a straightforward techno album with fast tempos, acid beats and violent rhythmic assaults, an enthralling piece both aimed to no-nosense clubbing nights and solitary, but adrenalinic, listening sessions. A lysergic, noisy, sometime even psychedelic, atmosphere is the leitmotiv of this work, giving us a series of tracks where rhythmic noise, techno industrial and Detroit acid moments are merged in powerful, obsessive, droning attack.
We start with RS 100411 and its deep space, distorted crawling crescendo, a noisy intro full of growing tension, which evolves in a raspy, shrilling mechanical drone reminiscent of industrial noise (anti) music, followed by Evar Delta and its more straightforward approach based on pulsating bass and syncopated rhythms, where filtered vocal samples and screeching beats are enveloped in an obsessive march, linking 90's acid techno and the more industrial side of things.
Larm dv leff is a rhythmic noise number in which sharp synths and 4/4 drum machines give us a chainsaw groove that hypnotizes the listener guiding him in an acid ride, while Lysregg 25 plays with dark, fat, bass sounds and direct kickdrums, adding then a percussive crescendo made of resolute snares and distorted beats. The last original track is Faster k on the sidewalk, an abrasive episode opened by a noisy mantra soon united with spacy kraut rock effects, a psychedelic outro where sampled dialogues and modular sequence saturate our ears.
Then we have the remixes: Lysregg 25 is reworked no less than three times, the most interesting remix being the Chris Moss Acid version, a reinterpretation full of distorted sounds and shrilling effects, and then even Evar Delta knows three remixes, where Zosima version shines in its cacophony on the verge of power noise, a triumph of abrasive distortion and industrial factory samples that wouldn't be out of place in an Ant-Zen album.
Beyond already "famous" labels like Perc Trax, Downward, Blackest Ever Black, Ostgut Ton and artists like Perc himself, Samuel Kerridge, Regis, Silent Servant, Vatican Shadow etc., there is a less known world ready to be discovered, full of interesting emerging artists. Squaric is one of them, and his music has a straight-to-the-point quality, keeping at the same time dancefloor urges and some more experimental elements; where some modern techno industrial projects are using more and more post-punk and ambient influences, he instead prefers an always brutal, if distorted, rich and sometime bombastic sound that capitalizes the listeners attention. If you love hard and acid techno, this is something for you, don't miss it.
Label: Diffuse Reality
Rating: 8, 5