Published by Davide Pappalardo on July 14, 2021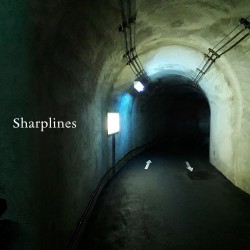 Sharplines aka Italian producer Nicola Cimmino is one of the most interesting producers in the contemporary underground techno scene. He is active even as Nathaniel and has his own label CrestFallen Electronics (previously Dead By Overdose) through which he pushes both his more experimental output and the one from upcoming artists.
In 2019 he published his 4-track EP Heading For Hell for Ancient Methods' label Persephonic Sirens, and he recently returned under his mentor's wings with the new effort Stranger To Stranger. Here he follows his heterogeneous and experimental approach to techno music mixing oldschool vibes with modern vision as well as hypnotizing moments with sharper patterns. To use the simple term techno-industrial would be deceiving, we find here a series of different elements coming from different eras and areas of techno music.
Passion & blazing guns starts with an eerie sound soon followed by a captivating rhythmic movement with well placed samples and a steady crescendo built upon kicks and snare-drums. The effective mechanical mantra meets oldschool bass-lines and obsessive patterns while some changes in tempo offer a conscious songwriting. The lone jester plays with crushing beats and groovy lines in a crescendo made of thick rhythmic parades colliding into a sound-wall that dominates the listener. Distorted kicks complete the scene in a brutal club track enriched by some darker pads.
No will to break is a straightforward affair with hypnotizing synths and steady 4/4 rhythms added to a shrilling syncopation in its first part. Then, a mutant sound takes place with a communion of distorted attacks and obsessive ongoing mantras in a hard-hitting affair perfectly linked to current techno-industrial and yet with its own volition. Stranger to stranger ends the work with a dark techno number founded on grim soundscapes and engaging rhythmic patterns. Fierce beats and eerie, dissonant effects meet even some orchestrations and bridges with a cinematic feeling in a track that manages to be at the same time evocative as well as a no-nonsense attack.
Stranger To Stranger showcases once again a modern example of industrial-tinged techno music, and yet menages to further evolve Sharplines' style by embracing a wider scope of influences and motifs. For sure the various projects and different outputs he has done in the time between the two releases permitted this natural evolution which doesn't forfeit the main elements of his style.
Label: Persephonic Sirens
Rating: 8