Published by Davide Pappalardo on November 15, 2019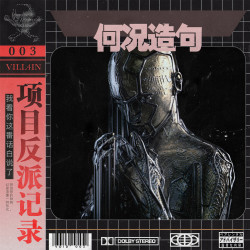 Mancunian producer Sangam is a sound artist in the very sense of the word. His career started in 2012 with Swallowed Into The Abyss (Night Tracks Free) and as of now counts more than seventy releases between albums, split, singles, EPs, compilations. Works informed by a soulful and eerie kind of ambient music where soothing melodies, vaporwave soundscapes, droning sequences conjure melancholic images and cinematic feelings.
Enter the underground Chinese label/art collective VILL4IN and their series called Void – made of different formats in which we find music, graphics and art. Any release of the series sees an edition with vinyl and art mag included, in all encompassing artistic vision with a multimedia take on modern music. The third chapter Void 003 is a 9-track album from Sangam presented as per usual in different versions – one of them hosting the art mag and two random holographic cards.
We will find here a majestic sound dwelling in sorrow, distant memories, momentary bliss and feelings of alienation and loneliness. Ambient drones, field-recordings, chill out atmospheres and delicate vaporwave melodies craft an inner dimension supported by broken rhythms and evocative strings. Portraits of social dysfunction, depression and heartbreak are sublimated in Sangam world echoing emotions that can't be expressed with mere words.
1999 starts our journey with its cinematic score full of sweet sadness and a sort of Sehnsucht recalling to our early days, and even something beyond of our own life. Droning samples and orchestral elements guide us down memory lane. Mist dwell follows suit with ambient soundscapes made of terse sounds and heavenly scenarios with chopped loops and peaceful choirs. The simplicity of the songwriting doesn't add to boredom, instead we find ourselves once again entrapped in a hypnotizing mantra.
Sector elaborate a crescendo full of pathos upon the sound of rain, enriching the atmosphere by the means of rare synths and embracing melodies speaking to us from the inside. This is music for the soul, reaching our deepest core and showcasing our purest and frailest essence in front of us. Elbow room is a downtempo pastiche with vaporwave soundscapes and slow rhythmic obsessions, an elegant piece with graceful lines and eerie underlines which meet electronic glimpses.
Ministry dwells in cosmic synthlines and delicate guitar sounds, opening itself to beautiful keys and looping effects full of emotive pathos and enthralling passages. The use of repetition and aptly placed samples evoke a daily situation where our minds wonder full of thoughts. Grain wouldn't be out of place in a film-score, an ambient piece with vibrant orchestrations and almost ritualistic drones. Sorrow becomes a sonic experience, a meeting of distant souls in the world of possibilities.
Bothered follows the main theme of the album with the sound of rain, this time placing weeping guitars and suave crescendos upon it. Emotional arches don't burst in powerful climaxes choosing instead an introvert course enhanced by sparse electronics. The final part of the track surprises us with a drum refrain which loses itself in the rain. Unsaid follows suit with its name evoking a world of remembrance and remorse via soulful notes. The droning structure hypnotizes the listener until its abrupt conclusion waking us up from a dream.
The last track Light from afar, co close is a long suite summering the motif of the album. It welcomes us among the rain with celestial arpeggios and dreamy synth sounds, and we lose ourselves among its seductive movement. Retro elements and soothing drones conjure a loop of ideas and emotions going forward together with the flow. Then, crepuscular ambiances have their say in the music while distant orchestrations can be perceived in the background. A third change occurs with powerful lines moving amidst the persistent rain, a grandiose development which guides us until the end.
Void 003 is not a collection of tracks devoid of narration, its a narrative work which doesn't use words or up-front sounds to tell us its tale, choosing instead the craft of subtle evocation via droning melodies and well placed variations. A captivating ambient album is easy in concept and difficult in reality, especially one using drone elements and recurring sounds. Sangam accomplishes that thanks to his expertise in the genre, giving contents to the music and the possibility for the listener of living something outside of the sphere of daily routine.
Label: ‎VILL4IN
Rating: 9