Published by Alessandro Violante on March 26, 2016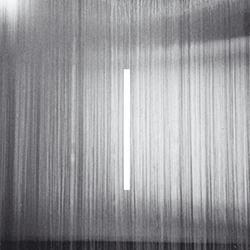 It's only been a year since the release of his latest album by Contort, but the prolific and talented Samuel Kerridge returned, to be precise on February 5th, with a new album, Fatal light attraction, released by Downwards Records, Regis and Female's label, for which he had already released his debut A fallen empire in 2013. This work is based on his performance made during Berlin Atonal 2015, and showcases the peculiar personality of a musician who, although very young, has already succeeded in the task of cannibalizing a series of electronic music genres and of remixing their elements in a very special blend.
Fatal light attraction is an original work for two reasons: the first one is that the seven songs contained here are actually segments of a sound-stream (but during the performance at Atonal it had audiovisuals too) that alternate steel rhythmic-like post-techno moments with dissonant noise and silence, which, as John Cage teaches, are themselves music and have their own meaning within the composition. This sound-stream brings us in the hic et nunc dimension, that can hardly be boxed within well-defined moments. The second reason is that Kerridge plays with different genres moving beyond the techno beat, "by manipulating it" in various ways, giving it a groove that transcends gender, and approaching a more groovy rhythmic formula, and it's not an heresy to speak about rhythmic industrial, another genre cannibalized by him, which is recognizable here and in other situations.
Here Kerridge confirms, if further proofs were needed, not to be what is commonly called a "genre musician", but rather an explorer of the noise flow potential within more or less syncopated rhythms, in a similar way these sound where explored in the '60s and' 70s by the explorers of the infinite potential of electronic sounds by manipulating their structure. Kerridge is a clear example of a musician who, faced with the gradual softening of techno music, reacts rediscovering a direct approach characterized by hard and strong noise, and by using sounds, it should be clear, generated through tailored tools, an aspect that gives his music an even greater uniqueness.
Fatal light attraction is a work designed for a live performance, which gives its best when accompanied by the visual component, but which also proves, when heard in our own houses, its interesting ideas and, at the same time, the sound flow. The sum of the parts worth the experience; we have the perfect communication between noise and discharged syncopated rhythms, silences and sounds, all complemented by the distorted voice of Kerridge, a prerogative as of late for him, which definitely links him with the "primordial industrial matrix" (used in the story of the genre by many others). Although it may be somewhat a limit to individually analyse each track of this kind of experience, it is impossible not to notice the overflowing driving force of the earth-shaking beats of FLA7, with a great number of beats per minute (here we are no longer in the pure techno territory, but in a kind of post-techno fast and overwhelming groove between an analogue matrix), or the equally furious rhythmic storm of FLA3, a bayonet assault that leaves only catch a breath at the end of the song with a pause, or the strong industrial techno ride of FLA1, a track with an overwhelming rhythm and filthy post-industrial percussions from some abandoned factory, and chilling injections of pure noise and obsessive and alienating vocals that seem to come from a distant planet millions of light years from ours.
Then, there are songs characterized by a lightly more canonical, but not for this less interesting industrial techno, as in the equally rhythmic pounding of FLA2, another bayonet assault with a break of "musical silence" which partially let us catch a breathe, and the groovy industrial techno of the dissonant FLA4, in a semi-dub mixed with noise, certainly in a more rational way than FLA6, and the more atmospheric and gloomy FLA5 that, rather than playing on thumping rhythmic textures, generates a palpable anguish thanks to a noisy sound stream, which crawls in a sinister way for the duration of the song.
Summing it up, we find ourselves faced with a work that shows a great mastery of groove and rhythm, thanks to Kerridge and his emphasis on the performative character of his music. Fatal light attraction is a great third episode, decisive to bring Samuel Kerridge in the Olympus of the "research electronic music" of the last decade, and to virtually bring his latest work in the coming "end-of-the-year" lists.
Label: Downwards Records
Rating: 8, 5