Published by Davide Pappalardo on January 30, 2020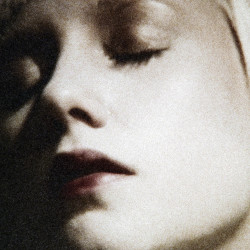 Berlin-based Danish-Canadian multi-disciplinary artist, musician, designer and performer Sally Dige should be no new name for the lovers of minimal/darkwave music with hints of synth-pop. new wave, even EBM, and sometime pure 80's "art-pop". Her music perfectly fits her persona: enigmatic, but always with a bit of self-conscious humor, decadent, but with a candid sincere approach, down to earth, but at the same time full of symbolism, a paradox of darkness, light, modern atmospheres and a somewhat melancholic recalling of the past.
During her solo career with albums like Hard To Please (2015, NIGHT SCHOOL), Hold On (2017, DKA Records/Avant! Records) and the EPs Sally Dige (2012, Fabrika Records), Forget Me / Losing You (2013, NIGHT SCHOOL), she has shown a versatile style inspired by many facets of retro music, but with her own twist and a coherent aesthetic and sensibility. From the Propaganda-inspired Immaculate Deception to the neon-tinged majestic Hold on, or the throbbing techno-pop of Emptiness, words and images work in unison presenting us her inner world as Art.

Now the single It's you I'm thinking of follows suit with what previously done, while showing an ever present growth in her artistic scope and endeavors. Sally thinks of almost everything: music, images, the direction of the super 8 film. Only the live drums presented here are a courtesy of Jonathan Reiter, recorded in studio. The track was written, recorded, produced by Sally in her own bedroom, and it takes a step back from the recent, more electronic, style of Hold On.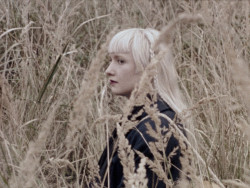 A warmer, human sound sports guitars, a mandolin, and the aforementioned live drums. We can think of "noble" pop, but the reality is Sally's music has its own voice, space and time. The retro vibes become a medium she uses in order to express her frailties, regrets, emotions. Soulful guitars and enthralling melodies show us a musician and songwriter, and not only a producer and sound-designer, while glimpses of violence and pain amidst the placid footage give us flashes of inner turmoil.

The voice is important as much as the instruments. Sally has the power of conveying at the same time sadness and a composed, almost stoic attitude; she is a singer, and the way she modulates her words totally in key is proof of that. The sombre music underlines and gives strength to her, and the mandolin solo offers us a delicate oasis made of pathos and subtle crescendos. The refrain is captivating and almost sing-along in nature, the finale is a fine sum of emotions.

It's You I'm Thinking Of is the first episode in a series of self-released singles showing a new path for the artist. The YouTube video was released on Wednesday 29/01/2020 and the digital single will be out on 31/01/2020. She plans to release a video for every single in this series. We highly recommend to follow them and wait for new surprises from her camp.