Published by Richard Fowler on June 15, 2019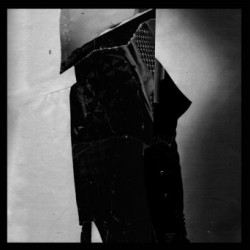 Italian sound artist Roberto Crippa rose to prominence in the 00's for his innovative sound installation works investigating architectural acoustics, and the response of physical bodies within these specific sites. In his studio works he metaphorically speaking, throws off the shackles of these limited exhibition spaces, and scales things up in a sense, rendering vivid pseudo environments, and landscapes; bleak shadowy valleys, looming mountain ranges, scorched desert plains, cavernous subterranean amphitheatres, as well as dank industrial wastelands, and decayed urban ruins, transporting the listener into an immersive aural virtual reality.
Looking back to Reverse, Crippa's impressive 2013 debut on We Can Elude Control, there was already an unmistakably distinct unfettered organic style which has been meticulously crafted ever since, and is evocative, curiously of both the natural and unnatural worlds alike, these territories have certainly been examined more fully in his recent outings, 2018's Selenic for Portals Editions, and here yet again with an even deeper, more immersive examination on Ascent released on Italy's Second Sleep imprint, the roster of which boasts something of a who's who of 21st century concrete musicians.
Crippa defines a less is more approach here, defying the process in itself, using seemingly larger brushstrokes without compromise, generating unending detail; the results are a raw, imposing experience for the listener. Elementally forceful, there's tectonic resonance evident on both sides of record, showcasing the Milanese artists hyper dynamism on these two long form compositions, with a unique brand of sonic architecture that outlines his exhaustive approach, pulling and pushing the listener to their limits with granular synthesis in one moment to seismic outbursts in the next, but never at any point is there anything other than just the right amount of tension and unease, and dare it be said, even dread.
These atmospheric projections can be as gently elegant as they are ferocious, transportive, foreboding, and at times, scary as hell, Ascent is an incredible journey not for the faint hearted, a piece of work that clearly underlines this fine artists macroscopic production values in no uncertain terms. Ascent is released 7th of June 2019 and is available digitally and ltd 200 vinyl LP.
Label: Second Sleep
Rating: 9