Published by Davide Pappalardo on May 26, 2022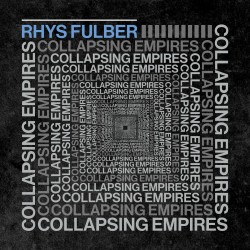 Veteran producer and electro-industrial artist Rhys Fulber is a name well known by both the old guard and the new generation. The first ones for his career in Front Line Assembly, Will and Delerium (this project actually became the most lucrative one thanks to its evolution toward trance and commercial sounds) and his role as a producer and remixer for Fear Factory (a key name in the popularization of the so called industrial metal sound), the second for his recent endeavors in the field of techno-industrial with EBM, ambient and IDM leanings.
We are talking about works like the EPs Realism (Sonic Groove, 2017) and Diaspora (aufnahme+wiedergabe, 2020) and the albums Your Dystopia, My Utopia, Olstagia (Sonic Groove, 2018/2019), Brutal Nature (FR Recordings, 2021). His last outputs foreshadowed a direction informed by old-school techno and 90s influence, and the new work for Sonic Groove Collapsing Empires seems to confirm this idea while retaining his love for ambient elements.
Actually, the album was conceived as a conceptual companion to the aforementioned Brutal Nature, both products of the Covid pandemic. So, we have more of a parallel tale with its own narrative than a continuation, another side of the same world.
Concrete cogitation welcome us with its nervous and dry rhythmic pattern employing dark techno obsessions and nocturnal synth sounds – the second half getting momentum via industrial hard beats and dissonance – while Dead reckon starts as a cinematic and droning ambient piece with ethereal parts intermixed with darker parts, evolving into a sort of modern electrical orchestration.
Glory to labour is a classic techno number with minimal rhythms and eerie synths, a moment akin to the style of Surgeon, and As far as dreams builds up an oneiric industrial-tinged mantra via a crescendo sustained by the adding of rhythmic and sonic elements – climaxing with a grandiose choir of powerful emotions.
Empire collapse ends our journey with electronic ambiances and cosmic synths recalling 70s kraut experiments in its early steps, then devolving into sharper soundscapes with a chaotic hedge and a cinematic finale.
All in all, Fulber reworks once again sounds and styles using his own peculiar sensibility and aesthetics, creating something easily recognizable as his, but at the same time different from previous works. The result is mental concept where the listener will picture images and scenarios while accompanied by the flawless production and skillful sound-design of the album. Another fine addition to a great discography.
Label: Sonic Groove
Rating: 8