Published by Melissa Lynne Strain on March 16, 2019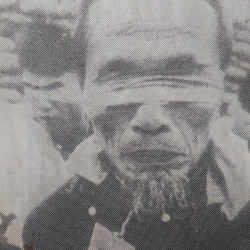 One of the many aliases of the Greek producer Dimitris Doukas, Restive Plaggona is a prolific, yet mysterious name in the industrial and power electronics circles. Self-released on his own imprint, Several Minor Promises, Ego Driven is a curation of seven of the artist´s previously unsigned tracks, released exclusively on digital format.
Despite the title of the LP, Restive Plaggona is a producer who prefers to keep low key, straying away from the ego-driven, social media circus of these modern times and instead making music for art's sake, stripping himself of any online presence. This is a big sacrifice, but the cathartic way that he approaches music making can be felt strongly in his productions that provide a sense of emotional release and purification through their dark emotions and often doomy atmospheres, and Ego Driven is a prime example of this.
The album starts off with Fragile, a sonic landscape with a post-apocalyptic feeling, like the sense of both tragedy and relief after something bad has finally came to an end. Have a dream carries us on this melancholic journey, with its haunting harmonies that are melodic and anxiety inducing at the same time.
The tension continues to build up with Feeling, another dark and prophetic track. Incorporating ethnic sounds into his productions, it is easy to compare Restive Plaggona to the likes of Muslimgauze or Vatican Shadow, however he manages to integrate these Middle Eastern influences into his music in his own more subtle and unique way, and this can be heard in this track, as well as on Forsaken and Compromise.
The final two tracks take the release away from the avant-garde electronics zone and into dancefloor territory. How deep the rabbit hole goes is an aggressive track with hard hitting broken drum beats and a disorientating and chaotic rhythm. The best of Ego Driven has been saved for last, and that is Siamo la ciurma anemica, a track that would manage to blow up the dance floor while at the same time staying true to Restive Plaggonas sounds that stay clear from the usual 4/4 patterns. The vocals start off sounding almost like they could have been taken from a pop
song, but then quickly turn nightmarish, which combined with the propulsive bassline and hard hitting percussion makes for a distressing yet arguably danceable end to the album.
Rating: 8, 5
Label: Several Minor Promises