Published by Davide Pappalardo on December 4, 2016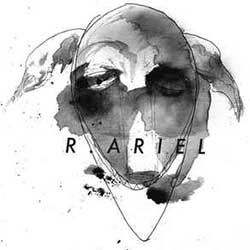 "This sounds like what nostalgia feels like. Or a memory. This piece has an illusive serenity to it which fills the room." – with these words Brian Eno has described R.Ariel's music, choosing her as Best New Creative for Noise Fest in 2014, and maybe more apt description couldn't be done for her art. The American independent musician has already published many works under her moniker, she has written a book called In north America, and her song No middle names was featured in the Museum of Modern Art in NY in 2016 as part of Hana Tajima's installation; now she is touring through Europe to promote her last album Identified Demon, published by Gloam Recordings, the work we are going to review.
As said, her music has a dreamlike, cloudy quality, something akin to the world of imagination and distant memories, where placid electronics, eerie delays and sounds, ethereal vocals and indie elements are used with a sparse, stripped and minimal style full of elegance and melancholic emotion; ambient music and pop sensibility have a fortunate marriage, without overlooking some more experimental sounds and directions.
First uses vocal reverberation in loop and a rhythmic drum machine, while she delivers her suave singing amidst the sonic crescendo made of the aforementioned rhythms and distant arpeggios, while Doux is a short ambient piece full of strings in reverse; Control shows us a more minimal and electro oriented side of her music, with mechanical, obsessive rhythms and hypnotizing choruses, a song dominated by an emotive crescendo underlined by spacey, dazed synths, and almost tribal atmospheres.
Loveless plays with American dark folk tropes, recalling a lighter and more romantic version of the recent female fronted insurgence in the genre, using the guitar as the frame of the song, while the minimal rhythms full the empty spaces, and Body puts us in a lucid dream made of droning keys and polarizing beats and vocals, in a dazed atmosphere in which, once again, the usage of minimal elements is the winning key; Ready is a darker, but not brooding, affair, akin to cold wave in his gray atmosphere and pale sounds, a dirge song with a slow pace where the choruses have a little bit more of energy.
Southwest is another more experimental interlude with a modular synth looped through its short life, while the title track recalls 60's pop rock with his arpeggios and lo-fi recording, like a Polaroid put in music; Actual fuck is a piano affair with delicate crooning vocals, a retro number reminding us of a classy piano-bar and an elegant melancholy, and the last track Toi says us wave goodbye with a short pipe organ drone completed by a ghostly humming.
An interesting work characterized by delicate, sometime sour sweet, sometime tear-jerking, sometime placid, atmospheres, where pop structures meet folk, minimal synth, rock, ambient, experimental music in a universe of her. If you want to have a trip in her world, this is your ticket.
Label: Gloam Recordings
Rating: 8