Published by Melissa Lynne Strain on February 25, 2019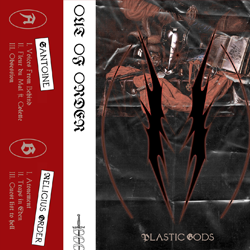 Released on Out of Order, the Portuguese imprint that have brought us gems from the likes of Ivy's Hands and Strahinja Arbutina in the past, PLASTIC GODS is split, six track cassette showcasing the sounds of two very exciting young artists – Santoine, the Rotterdam-based DJ, producer and founder of Abyssal podcast series, and Religius Order, an Italian artist who has previously released on labels such as Up North Records and Natural Sciences.
Getting straight to business, Santoine starts things off with Voices from behind, undeniably one of the standouts from the PLASTIC GODS release. This slow, yet hard hitting track begins with a punchy bassline and broken drum pattern, before it descends into an intoxicating and rhythmic affair with the choral-like samples creating a hypnotic effect. The next track, Fleur du mal is a collaboration between Santoine and Colette, featuring deadpan vocals and an infectious, acid-tinged bassline, while Obsession is a slow and sludgy number. Combining elements of body music, proto-industrial and electro, Santoine has constructed a sound that his own and judging from what he has delivered on PLASTIC GODS, it looks like there's big things to come from him in the future.
Next, Religius Order and his slew of machines takes over with Atonement, an example of the raw and ritualistic, mutant electronic music that this Italian producer is becoming known for. Another highlight of the release, Traps in Eden is 5.48 minutes of straight up fire, taking us on a dark and disorientating journey that puts you at unease but will make you want to keep dancing at the same time, as it slowly builds up tension before breaking into a frenzy with its foreboding synths. Keeping up with the unholy spirit, the final track on PLASTIC GODS is the aptly named
Guest list to hell.
PLASTIC GODS is available in digital and cassette format from Bandcamp, but with a 50 tape run, you better not sleep on it.
Label: Out of order
Rating: 8