Published by Tzar on June 17, 2019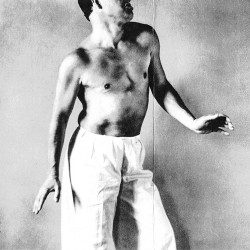 Here's a treat for conoisseurs of alternate realities. To paraphrase Rivet, the man behind the exquisite Kess Kill imprint, there's a garden of undiscovered sonic treasure on a path that is hardly trodden. In particular, he refers to one era that never was, where body music did not go down the more predictable direction of standard EBM, dark electro and even trance. Instead, it evolved through free association, guided by the exotica of post-industrial (and post-punk) cassette culture.
In Berlin, among the exponents of such a sound, we find acts like Group A, Parole e Azioni, Glass Knot and Piska Power. While a significant portion of their fellow industrial monks remain addicted to that seductive cocktail of EBM + cutting edge clubbing beats, these misfits channel the sacred vein of proto-body as revealed by early Portion Control, Liaisons Dangereuses etc. at the very beginning of the 80's. Still, the deal is far from retro and mutations are plenty.
On his fresh release Irma Infekt, Piska Power goes straight for the rusty jugular. The pieces are spiked with intriguing narratives, promising some refined indulgement. Minimalistic and improvised as they appear, they imply a level of detail far more elevated than the one offered by the mere blind emotion of dancefloors. Splashes of aural ectoplasm corrode the nerves as a dangerous aphrodisiac, sharpening the focus and infusing dance moves with juicy bliss.
Tremens and Haben Sie zwei Augen are illegal implants reaching into symbiosis with your neural system, while Medusa and Irma's infection titillate proto-body receptors with the smell of black leather, rubber and illicit sex. With such poison on headphones, it's a delight confronting the vulgar colors of gentrified streets and replacing them with cyberpunk dystopia that was never meant to be.
Piska Power is rather modest – by his own words, he just jacks in the machines, lets it rip and then keeps the material which stirs him emotionally. And so should you! Digital releases are forever, but the tapes are scarce, so get your copy while you can, as there is a fetish to satisfy. Also, these pieces are delicious in design, with a copper coating and an enigmatic cover (reminding somehow of Mishima). Irma Infekt is out on Kess Kill – inject it now.
Label: Kess Kill
Rating: 8, 5