Published by Davide Pappalardo on July 3, 2016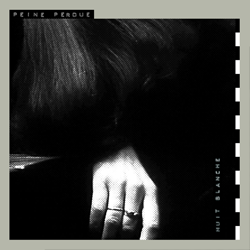 Coco Gallo and Stéphane Argillet are the French duo Peine Perdue, a project dedicated to minimal synth music, where the French touch and cold patterns have a fertile common ground: a mesmerizing atmosphere in which delicate sounds and very minimal, old school obsessive rhythms are totally embraced by a back-to-the-basic approach. They now return, after their last EP La Peur Belle, with their fourth full length called Nuit Blanche, a work that gives us ten tracks made of somber, evocative, nightly electronic music, emerged in a misty soundscape whence dark vibes come up creating a "world of a future past".
Another element of interest in this album is the vocal style used: more akin to spoken-word than traditional singing, it describes in a narrative tone what the music conveys, amidst mystical scenarios and crawling sound-pictures full of noir atmospheres and nihilistic catch-phrases (La mort est le travail de toute une vie – Death is the achievement of a life time Gallo reminds us in Chic Final). This is not disposable dance music by any means, instead we have a catatonic, lysergic movement that requires to be fully lived with deep concentration by the listener; a tour de force enforced not by a malevolent violence, but a maybe more sinister perennial calm.
Aleister welcomes us aptly by using a sample of an Aleister Crowley's evocation, therefore building an emotional atmosphere by the means of sound layers and the use of trumpets; then we have a minimal drum machine upon which Gallo's voice and ambient effects are layered. A dreamy, slow affair, which enthralls us and takes our hands, guiding us toward a strange world. The title track follows a more retro sound with minimal keys and a duet between male and female voice, until the last one dominates the rhythmic crescendo, where high frequencies are effectively used; an obsessive loop is generated, followed by piano keys and catchy effects.
Machine Aveugles reminds usof Absolute Body Control's minimal experiments, using minimal beats and distorted keys in a slow adding of elements, while Gallo's voice follows us with his charming style. "Gothic" choruses have their place with strange, ceremonial keys, until the end, where field recordings of bird verses close this evocative number. The last track is a remix of Chic Final, a rework where stronger drum patterns and groovy electronic vortexes give us something that could be used in a dancefloor, even if a very intimate one, crystallized in time and space. Piano keys, violin loops and strings sustain a submissive, but enthralling atmosphere, while the bassline enforces its groove until the end.
A gloomy but delicate work that knows how to structure a somber, but resolute and obsessive, sequence of minimal tracks where few elements are used to paint by sounds an evocative, misty soundscape soaked in existential pessimism and symbolism. This is not post punk revival or a simple minimal poppy synth number, and probably this is not for everyone: we can only guarantee that, given the right time and attention, it will grow on you infectiously.
Label: Self-released
Rating: 8