Published by Alessandro Violante on May 27, 2022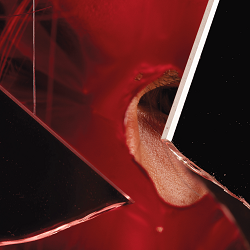 It isn't common for an artist to refuse any schema, always experimenting new solutions risking to lose fans, but it's a natural process any artist experience, which can only be appreciated by journalists.
The versatile Dutch artist Parrish Smith is an example of this category of musicians, who has adopted this approach as a trademark, refusing to follow any trend and the large audience desires.
His last release, the Light, Cruel & Vein LP, released on 16th May by the Dutch label Dekmantel, is his most mature work, representing a further step into the evolution of an artist who, since his early releases, conceived his music as ever-changing and refused to encapsulate his music into fixed boundaries. In his Bandcamp page there's written a slogan fully representing his point of view in few words: "no elitism / no prejudices / no genre / hypnotic, tense comprehensible / a state of mind".
Before having released this new LP which, it's important to say it, is his first proper solo "full length", he's released some releases with labels such as Knekelhuis, the cult label L.I.E.S. Records and Dekmantel UFO Series (a sort of Dekmantel sublabel). Light Cruel & Vein is his deepest, his richest and, pass me the term, his most introspective release so far, while also being a perfect example of his "no genre" concept.
In fact, in this multifaceted release, the artist has expressed several different influences. Some of them weren't never been so strongly developed in his past releases. Let's think about the complex guitar riffing, the use of effected voices and especially of song structures transforming the concept of a club track in a proper song. In particular, this marks a great step forward in his music and it's a clear sign of maturation.
The sound of the majority of the songs contained in the LP could be briefly categorized as downtempo / downbeat, but each song is full of depthness and sound layers, and there's a lot more to discover. In Fader we find post-punk traces while in Slave we find those of metallurgic industrial rock. In STRENGTH there's the influence of punk; in I Wanna Be Your Idol that of techno-punk; in The Doomsday Generation that of noise and of noise rock. In the whole release, the influence of a band like Sonic Youth can be heard.
In Light Cruel & Vain there are a lot of different outputs sounding very well together and highlighting the creativity of the "youngest" generations of artists who have borrowed the lessons of old school artists and who have rendered them in new and convincing ways with their touch, never copying the past, but giving shape to something different. If you want to understand one of the directions where this music is heading to, consider listening to this album.
Label: Dekmantel
Rating: 9