Published by Davide Pappalardo on November 1, 2021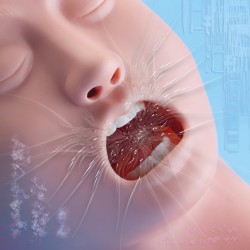 Luna Vassarotti and August Skipper are the masterminds behind the cult label Instruments of Discipline (if you are reading this webzine, chances are you are well aware of its status and activities) and the noise/industrial project Operant.
With the previous EPs Zero Knowledge (2017) and Harnessed To Flesh (2018) they presented us with their brand of modern power electronics with rhythmic leanings and eerie ambiances, a style they further develop in their first full length Traumkörper, even integrating some new elements.
Here we find 11 tracks moving between harsh assaults, minimal technoid patterns intertwined with unconventional rhythms, and mutant electronics presenting alien moods and downtempo experiments.
The result is a fluid and ever-evolving, or we should say ever-melting sound existing in a reality of its own; take as an example the difference between the chaotic distorted mantra of Access To The Simulator and the noir techno-industrial of The Gatekeepers Are Being Assigned – different motifs, different techniques, but a similar atmosphere rich in moody under-layers and glimpses of manipulated samples.
The album is way more than this: if Piss Savant (Soplica Rave) unapologetically dwells in frantic dancefloor action, Navigating Your Meat Suit While Your Meat Suit Navigates Reality toys with IDM sounds with a more restrained nature, and 5G-OD is divided in two different parallels realities, a cinematic monolith full of destortion and a stomping doomcore outro.
The final track The Death Of Carlo Giuliani is an enchanting piece recalling the more ritualistic and melodic side of Coil, graced a main mantra upon which various samples are layered.
There were many different safe paths Operant could have used for this album, from a full-assault power electronics juggernaut to a Techno/EBM collection of club tracks sui generis. Luckily for us, Operant being Operant, they chose neither and instead put the notions of 2021's noise, techno-industrial, rave music and experimental sounds in a blender, together with some lysercic spice. Never retro-something or fashionable, this is work working on its own pace and in its own space-time, delivering a tastement to today's underground electronics and a post-genre era.
Label: Instruments Of Discipline
Rating: 9