Published by Alessandro Violante on February 13, 2023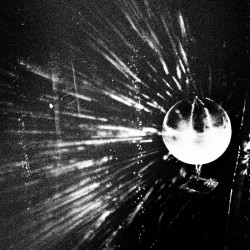 Listening to an album by Oiseaux-Tempête is a sort of mystical experience, in which several music styles coexist and in which each song has its own soul and bring the listener into a different journey. It's not by chance that the aim of the group is to transcend genres creating a unique and unclassifiable experience. Their last release, entitled What On Earth (Que Diable) once again confirms their philosophy. Oiseaux-Tempête are a Paris-based group formed by four different souls, Frédéric D. Oberland, Gareth Davis, Paul Régimbeau e Stéphane Pigneul. Each of them plays in other music projects. For example, Paul Régimbeau also plays with Mondkopf, while Stéphane Pigneul also plays with Norma Loy.
When making music together, these four musicians give life to a unique sound, including genres such as avantgarde and experimental music, free jazz, krautrock, indie rock, noise, post rock and pop punk. These labels have been used to label What On Earth (Que Diable). How can it be possible to describe a such complex release? The only way seems to be inviting the listener to listen to it while being in the right mood, in a peaceful atmosphere, far from city noises and with the smartphone powered off.
Nevertheless, it can be possible to trace some dots along the way that, from the opener Black Elephant, brings us towards the ending song Dôme (Live At Oscar Niemeyer's Abandoned Fairgrounds). Along the way, there are seven songs having different lengths. The longest, which length is longer than 20 minutes, is The Crying Eye – I Forget, an hypnotic mantra in which the most visionary dark electronics, the bass and the wind instruments (saxophone and clarinet) are mixed, creating a particular experience. It's a perfect song for a noir motion picture.
Other relevant songs are Partout Le Feu and A Man Alone In A One Man Poem, two songs having strong noise rock sounds, but enriched by several music elements giving them something more. In A Man Alone In A One Man Poem, noise rock is mixed with electronic arrangements and with vocals. Totally different from them, in Nu.E.S Sous La Comète, prog rock and piano improvised sounds are well mixed together.
Each song has its particular sounds and none of them are fillers. What On Earth (Que Diable) has been released in double LP by Sub Rosa and NAHAL Recordings. This label belongs to two musicians of the band, Paul Régimbeau and Frédéric D. Oberland, while Sub Rosa is a cult label which, among others, in the past released music by Mick Harris, Bill Laswell, Marchel Duchamp and William S. Burroughs.
Label: Sub Rosa / NAHAL Recordings
Rating: 9