Published by Alessandro Violante on July 30, 2016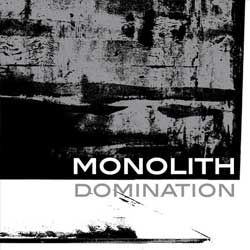 Precise as a Swiss clock, Eric Van Wonterghem alias Monolith (and several other projects as Sonar and The Klinik) has come back with a very good follower of the previous album Crashed, released by Hands Productions too, where the second sounded a bit weaker, very "monolithic". Domination evokes his masterpieces and portraits the artist at his best.
The ninth album in his very prolific career is a collection of fourteen songs (plus a remix made by Dimitry Distant) which strengths lay in the interest shown for details and for the particular, elements that give a certain "plus" to recurrent and convincing songs, following techno tradition.
Although sharing a common path, the majority of his new songs express  techno in several ways, but what distinguishes his approach from that of his colleagues is the way in which they're thought and composed. This allow them to breathe out of the strict bounds of four on the floor. It's not easy to clearly perceive the thin boundary between a powerful techno song and a rhythmic industrial highlight in the heavy title track, in which the sound perceived by the listener evokes what could be produced by hitting a huge steel sheet. Likewise, Angel of death hits the listener more for the emphasis put on the powerful and strong beat than for its development.
A work with several souls, that shows us primordial rhythm 'n noise episodes (Religion of peace) but also strongly dark techno episodes as Reconstructed and in particular Together as one, as well as the always recognizable interest for Eastern culture in Dust of India and Baigari; let's also think about the Buddha used in the cover artwork of his album The inner core, and even about the heavy and distorted track Disco Buddha presented in Labyrinth, released in 2001. There's also space for minimal-like and softer episodes such as Bridges and Oppression, highlighting the versatility of a musician who has a long career and experience.
In a moment in which there seems to be a sort of far west of techno industrial acts, what distinguishes his music from the one produced by similar artists? Undoubtedly a different approach, influenced by his other musical projects. Domination wasn't conceived only for the dancefloor, but it contains impressions, ideas, feelings with a danceable tempo. That's the reason why it's different both from Crashed, an undoubtedly more linear album, and from his last EP for Sonic Groove, Time running out. Here there's, once again, the desire to move out of the boundaries and to try a new way to tell the well established things, and maybe it's this versatility that makes it difficult to catalogue his music, now more than before. Anyway, what we are in front of, is a rather interesting album.
Label: Hands Productions
Voto: 8