Published by Melissa Lynne Strain on September 29, 2020
---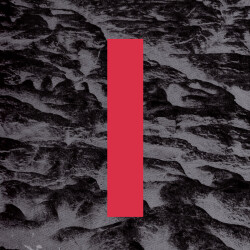 Gathering a cult following since the release of the Linea Aspera LP on Dark Entries back in 2012, Linea Aspera have become a staple in the record collections of lovers of dark and minimal wave.
Now After a 7+ year hiatus, the band formed by Alison Lewis and Ryan Ambridge, are back with one of the most anticipated wave releases of the past few years, if not the last decade – Linea Aspera LP II, a self-released, eight track album.
In scientific terms a Solar Flare is a sudden flash of increased brightness on the sun, and a fitting name for the first track of the LP. This intense opener is both upbeat yet heart aching at the same time, bursting with conflicting feelings of darkness and light and beautifully poignant lyrics. This sets the tone for the rest of the album, which is a lighter and more cosmic evolution of the band's signature sound, with inspirations rooted in astrological concepts.
One of the things that makes the music of Linea Aspera so beloved to many is Alison's way of storytelling and describing of the human experience that many of us can connect to, and brings a sense of nostalgia as if we are reliving our own past. Redshift is one of those tracks, a raw and emotional journey that hits your feelings hard, and is one of the highlights of the LP with its cold atmosphere and emotive lyrics.
Tracks like Equilibrium and Decoherence encompass minimal wave in its purest form, with arpeggiating synthesizer lines, stripped back drum patterns and harmonious melodies, while Entanglement takes the duo's sound in a direction we have not heard from them before, the powerful vocals and musical elements reminiscent of the music of 90s pop sirens like PJ Harvey. The penultimate track, Event Horizon is a catchy break up song with a contagious chorus that will occupy your mind for days, which is followed by the heart breaking and haunting Wave Function Collapse.
While Linea Aspera's past works can be heard on dancefloors of goth clubs all over the world, Linea Aspera EP II, is a less club-oriented release, each track forming a story which unravels when listened to all at once and becomes better with each listen. With a postponed European tour on the horizon for next year, let's hope that the duo are back again for good.
Label: Self released
Rating: 8.5 / 10