Published by Davide Pappalardo on May 5, 2019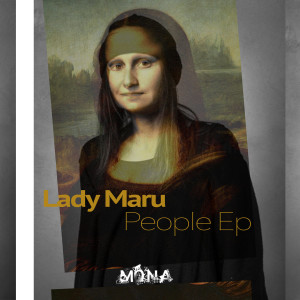 Italian artist Lady Maru, also in Trouble Vs Glue with Toni Cutrone, Cascao & Lady Maru with Manu Cascone and Le Truc Und Die Maschine with Iva Stanisic, started playing music in 1994 in underground indie post punk no-wave bands, using an electric guitar, some toy percussion and a Tascam 4-track recorder. She started djing in Rome in 2003 for clubs and open airs, moving between hard techno, deep techno and underground house music.
She even was a resident of the Amígdala party, and she has worked in the best Roman clubs and in "new interesting spaces" (Goa Club, Animal Social Club, Rashomon, Ex Customs), as well as in Berlin's clubs as Kit Kat, and Suicide Circus with the people of Golosa Crew.
Now she debuts on Mona Records with a 7-track EP called People, a work influenced by techno, house, and minimal synth-punk, thematically inspired by the people who walk the streets of Rome and their thoughts seen as fixed patterns that work in their heads as a loop. Minimal sounds, crawling bass-lines, obsessive rhythms guides us among her sonic world.
People in the street welcomes us with its throbbing synth and steady kick-drums, building a base for Lady Maru's crooning voice and the old-school sounds employed in the track. A subtle crescendo characterizes the episode, climaxing in shrilling techno moments with strong snare-sounds. Sound isn't over starts with tribal drums with a hypnotizing pattern, underlined by obsessive snares and sudden house-inspired pads. The song has a classy feel, but darker undertones can be heard during its progression, as well as the unmistakable voice of the artist.
Pattern in my head is the last original track, a groovy affair with syncopated bass-lines and obsessive percussions, upon which Lady Maru's voice is layered, full of reverbs. The spiraling structure reaches minimal melodies with a sci-fi quality and almost industrial takes, but the techno nature of the track is clearly recognizable. The listener finds himself in acid atmosphere with suspended moments and enthralling passages.
Then, we have a series of remixes: Mad Max changes Sound isn't over into a deep house track with dancefloor-friendly motifs and old-school patterns based on snare-drums and pads, while Christian Haro uses deep techno rhythmic grooves and drums in his version, a crawling affair with an eerie atmosphere. Daytona Team & GoTXa work on People in the street employing broken rhythms and electro-influenced moments, achieving a more skeletal track and using robotic effects on Lady Maru's voice. Finally, Joaqui from Extremadura surprises us with EBM throbbing bass-lines and strong arpeggiators, totally making the track his own and following a beat-driven muse with old-school undertones.
An interesting work showing many facets, People is another example of underground techno/house music reclaiming its place in the current experimental panorama, looking both to the roots of 80s and 90's 'dance music and the present. The remixes enrich the work giving us different takes on the original themes, offering an even more adventurous experience. Give it a listen!
Label: Mona Records
Rating: 7