Published by Alessandro Violante on November 2, 2020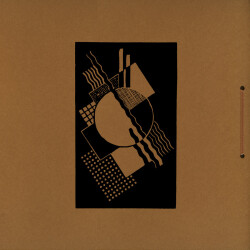 After having released a huge catalogue of different releases spanning a very wide range of electronic music genres and after having played his music in several countries, Mahk Rumbae (Konstruktivists, Codex Empire, Antechamber, Ghost Actor, Oppehneimer MKII, Mitra Mitra among others) has decided to create a new label, named Schalko, which first release is the new Konstruktivists' release Konstruktive Kontinuum, which has to be considered as the final part of a trilogy begun five years ago with the release of Destiny Drive and Anarchic Arcadia.
According to the words of Mahk Rumbae:
"Schalko is a new label based in Vienna, Austria, operated by Mahk Rumbae (Codex Empire / antechamber / Konstruktivists / mitra mitra) releasing limited edition vinyl releases focussed on electronic, experimental, minimal/wave and post-punk music. Each release will be housed in a hand-printed lino-cut sleeve, sealed with ribbon and wax, with a download code included.
Due to the limited nature of the releases (100 copies), physical products are only available direct from the label, with shipping costs kepts to a minimum)."
The cover artwork is inspired by a work of Henryk Berlewi.
Konstruktivists are one of the most important historic industrial music projects, born approximately forty years ago by the mind of the ex-Whitehouse Glenn Michael Wallis. Mahk Rumbae joined the project in 1994.
Konstruktive Kontinuum is available for preorder here and will be released on 18th November 2020.
Listen to the preview of Torture in black here: