Published by Alessandro Violante on March 31, 2022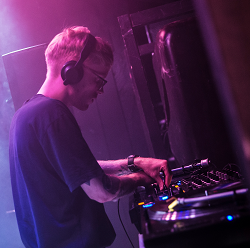 Today we'll talk with the New Zealander artist Keepsakes, one of the founders of the prolific project HAVEN, both being a record label and a club night. We'll talk about HAVEN and about his upcoming release, A Virtue In Vogue, which will be released on 29th April, which will be released on the same label.
Q: Hi! It's a pleasure to talk with you on our website about your music and about HAVEN! When have you started making music with Keepsakes? What could you tell us about this project?
Thanks for having me! I started Keepsakes back in 2013 with releases on Polish digital label Sequel One records. It wasn't necessarily a techno project at that point, but quickly turned in to one after I discovered the Birmingham sound artists like Regis and Surgeon later that year – I grew up very near this area of the UK, so discovering such amazing artists that lived in the same region I came from was very inspiring and pushed me to focus on techno. Since then I have been fortunate enough to work with some of the best hard techno labels in the world today – including Ansome and Ossian's South London Analouge Material, Perc Trax, MORD, Mindcut and many more.
When I try to make a Keepsakes track there is usually a few things I am trying to achieve. First and foremost, I want to make something that will be effective on the dance-floor and will get bodies moving – so it needs to sound heavy and some 'weight' to the production, while also have a great musical idea holding the track together. I'm also usually trying to make something that is musically interesting that we maybe haven't heard before – I try to bring a lot of different musical and artistic influences into my techno production to help keep things fresh and original. I also try to have a good mix of darker moods and more fun tracks in what I make – I find many producers focus too much on exclusively making either super serious angry music or more light-hearted music, but I've always tried to do both. Finally I do like trying to make some kind of statement with what I do, which usually comes across in my acerbic and cynical track and EP titles – I have a generally cynical view of the world and human nature and I like to express this somehow in the music I make.
Q: I've listened to the whole HAVEN catalogue. It's a very prolific label, which has published very well estimated artists. What can you tell us about the label?
HAVEN became a vinyl-focused record label around 2018, originally starting in Tāmaki Makaurau, Aotearoa (Auckland, New Zealand) in 2015 as a club night I launched alongside Jaded Nineties Raver and event promoter Tom McGuinness. Since then we've gone on to release many top artists in the scene today – VTSS, Tommy Holohan, Peder Mannerfelt, New Frames, Ryan James Ford, Ansome, Perc, UVB, and Headless Horseman among many others have all released music on the label to date.
I originally intended to mostly just release my own music and other NZ artists on there, but I quickly started finding all these amazing upcoming artists internationally and the label's focus changed quite quickly. Now we are still very focused on releasing the very best international artists and music we can, whilst also trying to focus again on releasing some of the great dance music made in NZ – the scene here has changed a lot over the past few years and a new generation of producers and DJs have come through that I'm very interested in introducing to the rest of the world.
The focus of the music we release is quite similar to the goals I have for making music as Keepsakes. I always like to have a combination of dance-floor effectiveness, original ideas and sound design, and a mixture of moods in the records we release – I can be pretty fussy with what we publish on the label so I'm really looking for music that reflects that meets a certain standard.
Q: Let's now talk about your upcoming release A Virtue In Vogue, which will be released on 29th April. It shows a further maturation of your sound, with a relevant melodic element, also influenced by the long history of this music. What can you tell us about it?
This is the second of my releases made in the midst of the pandemic, the first being last year's 'Nepotism Vision' EP on South London Analogue Material last year. For me this next EP on HAVEN is one of my personal favourites from my catalogue – it really achieves a lot of the aims that I make for music, and I think that was actually facilitated by the lack of distractions that Covid brought when it shut the world down.
I did certainly go a lot more melodic in this release than I have previously – all the tracks are primarily driven by melodic hooks to keep people dancing. There's been a big swing towards melody in techno in recent years and a big move away from the austere, atonal sounds that have dominated the genre for most of the 2010s – and ultimately I think this is a good thing as it certainly makes the music a lot more expressive and fun when it isn't overstepping into cheesy pop remix territory. The A-side has the more dark, moody moments on it and is more in-line with the sound I went for in my previous EP – but the B-side definitely aims to make things more fun and crazy with tracks that take more inspiration from house music than techno.
As for the EP title – A Virtue In Vogue – I think it largely speaks for itself. It's about the hypocrisy and moralism of a world where a company like Nike boosts its public image by supporting (right and necessary) minority freedom struggles in wealthy countries, while also profiting directly from child labour in poorer countries. All public figures and institutions of course are going to support particular contemporary issues and causes – just don't let that trick you in to thinking they're any real bastion of morality.
Q: While listening to the releases published by HAVEN, I've noticed you've published very different musicians and songs having very different influences, such as breakbeat, EBM, acid and much more. I like you have a wide idea of techno music. Can you tell us in which direction you're going with the label?
I've always had a pretty wide taste in music and came to techno relatively late – I was more in to hip hop, grime, dubstep, jungle, and house music before I started to listening to techno – and this definitely comes through on the label. I don't like to focus on just one specific type of techno as it would make running the label a lot less interesting for me.
Right now I'm really interested in tracks that combine hard techno with sound design that you find in UK-centric club genres like dubstep, grime, or jungle – I think this is a very under-explored combination that I'd like to see a lot more of in the future. We'll be starting a new compilation series on HAVEN that will focus on this sound exclusively – but due to long vinyl pressing times the first one probably won't be out until 2023.
Q: Which artists and labels are active in New Zealand? Can you suggest us some of them? What can you tell us about your country?
Aotearoa (NZ) has really come a long way with its local scene in the past few years – there's a lot of new artists and collectives that have been doing great things since I left for Europe for a few years in 2018, it's really an exciting time for the dance music community here right now! There is only a total population of 5 million people in the whole country, so the scene here is quite small, but that means every person that gets involved has a big impact. I think Covid also helped the audience get a lot more interested in local artists again – for most of the pandemic our borders have been closed so there has been very few big international names and people have had the chance to rediscover how special our local artists are.
In Ōtautahi (Christchurch) where I live there's a ton of people doing great things – there's a really strong sound-system culture down here with crews like Subtle Soundsystem, Eyesdown Sound, PnW all killing it right now. Then with labels there's also a really healthy small scene – you've got the Club Unique crew, Echo Train, Fostercare, too many to mention. Artist-wise there's a lot to mention too – there's Ebb and Keanu Raves (who will both be releasing on HAVEN next year), Percy The Kid, Texture, Mr. Meaty Boy, Foxtrot, Jaga, and so many more I'm leaving out. Around the rest of the country too there's a lot of amazing artists right now – BBYFACEKILLA, Native Bush, Dylan Biscuit, Current Bias, Alice Agnes, Body Beat Ritual, just to name a few.
Q: How did your collaboration with the wide range of artists you've published start?
It really differs from artist-to-artist – some are people that I have been friends with for a long time, some are people that I'd never met in person but I really loved their music. Artists like Ansome, Ayarcana, 138 for instance are all very close friends of mine so it made sense to ask them if they'd like to release some music on HAVEN. Tommy Holohan was someone who had been sending me music since he was a teenager – then he did his amazing first release on his own Rave Selekts label and I knew I had to ask to him to do something for us. VTSS was someone who I just started chatting to on Instagram, then when I started to look more closely at her music and previous activity it became very clear that she would end up being a special artist so asked her to get involved with the label too. Peder Mannerfelt was someone who actually contacted us at first – obviously I was very familiar with his previous releases so it was an honour to get to work with an artist of this level.
Q: I've found very interesting you've created different series of releases, for example Sardonic Tonality for compilations and Skull Crushing Techniques. What can you tell us about these "concepts" and about the reasons behind these choices?
For Tommy Holohan's 'Skull Crushing Technniques' series this is just what made sense to do at the time – it's nice to be able to give an artist the chance to express a series of ideas over multiple releases rather than just limiting it to the one EP, and with what Tommy was sending us it really worked doing that across his two EPs for us. He's been the only one to do this across his solo releases with us so far, but I'd definitely like to explore it again with the right artist.
The Sardonic Tonality series was mainly just intended to be a collection of dance-floor focused compilations with four artists on each record. It made sense for us to have a seperate series for this kind of project to make it stand out as something distinct from the rest of the label catalogue. We are taking a break from this series for 2022 to focus on solo releases, but I really love putting these compilations together – it's always a good chance to introduce new artists on the label for the first time before hopefully working towards a full solo EP with them later on.
Q: Do you make by yourself the artworks and the mastering of HAVEN's releases?
All the artwork is made by my partner Jaded Nineties Raver. We've always kept the artwork design in-house as I do like the label to have a consistent identity across the releases, thought we always work along-side the artist on deciding the final designs and try to make it fit their personality and music.
Our mastering is mostly done by Conor Dalton at Glowcast – if you've danced in a techno club any time in the past 10 years chances are you've danced to multiple tracks mastered by Conor, I recommend his work highly. Mastering is kind of its own art separate from producing, so it's not something I would ever take on myself as my knowledge is not good enough.
Q: One interesting thing I've noticed is that, according to the release series, they have different artworks and also, sometimes, a different label logo. For example, the Sardonic Tonality series doesn't have the squared brackets. Can you explain us the reason of this choice?
If there's any specific differences on the HAVEN logo between releases there's no real meaning behind it – it will just be a design choice that we've made. Not having the brackets around the catalogue number for the Sardonic Tonality series will be a choice we made because that artwork is done as an ink stamp rather than a printed centre label – so we have to try and be more minimalistic with the design. For the main label catalogue we have consistent designs across all the releases – but with the white label releases we change things up a bit because it all has to be stamped on.
Q: Another interesting thing I've noticed is the differences in the catalogue number. Some releases have the HVNWHT catalogue number, while the others have HVN. What WHT stands for?
The WHT just stands for 'white label' – so there is no printed label in the centre of the vinyl, it's just plain white and we stamp it with black ink. These releases allow us to take a little bit more of a risk as they are cheaper to produce, and I like the aesthetic as it's quite an old-school way of doing things.
Q: On your HAVEN Bandcamp page, I've seen HAVEN is also a club night. What can you tell us about this side of the project?
As I mentioned earlier, HAVEN actually started as a club night in Tāmaki Makaurau back in 2015 – so this was what we began doing before we ever thought about turning it in to a record label. We did occasional parties until 2017, when we did a series of tours for some of our favourite international artists around Aotearoa – touring Ansome, Perc, Headless Horseman, UVB, and Daze. After we moved to Berlin in 2018 the label definitely became the main focus, but then in 2019 we started doing regular events at the infamous Griessmuehle club until it got shut down at the start of 2020.
We obviously took a bit of a break from doing parties in 2020, but finally at the end of 2021 we were able to start doing events in Aotearoa again. This time we are much more interested in mostly focusing on the local artists – there's so many exciting artists in Aotearoa right now that we can have amazing gigs without the big international names. Once our clubs fully open up again here we'll be organising events again across the country showcasing the new generation of talent that have come through – we can't wait!!
Thanks for having me and to everyone who read through my interview! Anyone interested in my next EP or HAVEN can support us directly via our Bandcamp: