Published by Richard Fowler on July 25, 2019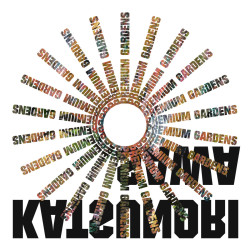 Katsunori Sawa; a name that has held serious weight for some time, in the murkiest depths of the techno scene, there is no doubt, although perhaps overlooked maybe due to his association with the arguably more widely known Yuji Kondo with whom he forged a successful partnership, now consigned to history, as the duo, Steven Porter, but those less familiar with his solo work be assured, Sawa hasn't stepped out of the shadows, his back catalogue speaks for itself, while new collaborations with Chafik Chennauf on Voidance and Stone Tapes as well as a solo effort on Opal Tapes, have seen a welcome increase in output in the last 2 years. His involvement with Berlin's Weevil Neighbourhood goes back to 2013 with 2 EP's The Two Legs, and Holy Ground, and his debut LP Silence.
Premium Gardens, Sawa's second LP with Weevil Neighbourhood, opens with the destructive Noncinema, introduced by a frenzied, chorus, of noisy, oscillating drones before breaking down into a dense rhythmic noise trip, something that extends into Human concern, where muddied kick drums drag with them layer upon layer of heavily processed FX, that twitch and throb in this anxiety inducing, atmospherically charged, percussive onslaught.
Mean and focussed, Fascinated me is constructed around a rigid processional stomp of considerable force, joined by ghostly echoes, chattering FX, and scratchy synths, where even the swirling sirens that deepen as the track develops can't throw its relentless forward momentum.
Next up a rather cinematic piece that's quite epic in scale, really showcases Sawa's extraordinary talent; an outstanding piece of 21st century sound design, The division with its stark subterranean ambience, conjure images of claustrophobic tunnels and abandoned corridors, making it an eerie encounter, which threatens bloody violence at every juncture.
Hazyily fuzzed, snarling bass, and glitching electronics join a metronomic thudding bass kick on Burning pixel, a drum n bass reductive, technoid hybridization, driven by whirring motorized drones, and statically charged particles, that spark and crackle from it's deep dark underbelly.
The drunken, lurching progress of Excavation is a real treat, a break of wave compression, and FM synthesis punctuate the exasperated, swaying maneuvers, inducing a disorientating dream like sequences amidst the constant hammering of antiquated machinery, which just about manages to hold the staggering composition together.
The relentless force of Roughneck feels like a real test of nerve, the ceremonial percussion add a heightened tension to bleak, morbid ambiances; underpinned with constant chatter, it plays out like a soundtrack to ritual sacrifice.
Overcome the heartaches, is a collision of forces and serves as a great release, gaseous bursts, and thrusting percussion, have a calm delicacy about them despite there ferocity, while the screeching metallic resonance of harmonic interplay makes for a menacing companion in this hardcore techno, futureist rave monster.
The bacillus, holds a note of nostalgia, a nod to the past, with an edgy 80's synth workout alongside distorted and twisted ambiances, that eventually subside to reveal a ferrous barrage of FX, with a grinding, rusted, and corrosive breakdown.
Pluralism closes the LP; a maelstrom of swirling bass drones, lifted by bright resonating synth pads blow through the restless broken beat framework, which promote something of a rather hopeful, and positive outlook at the end of an arresting journey, that's full of jeopardy.
Premium Gardens is a sheer delight, a genuine contender for album of the year, each track adds something a little bit different. Like with most of Sawa's productions there are a great many Industrial elements here, but what's unique is how he is able to bring them all together, and offer up such great variety in the resulting compositions, a great 21st century techno record, highly experimental, heavy on abstraction, but not without a few brutally, ugly floor fillers for the braver and more creative DJ's out there, release date is 15 May, available as ltd cassette and digital download.
Label: Weevil Neighborhood
Rating: 9