Published by Tzar on February 25, 2020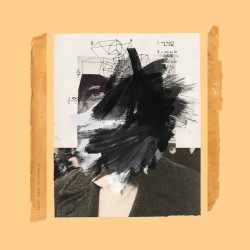 Now, this is a real gem – tiny, but precious. The responsible lapidary is Iv/An, a mysteriously underrated artist from Croatia, with a plethora of exceptional releases under monikers such as Umrijeti Za Strojem and ½, also through collaborations in Narrow, Zastranienie and more. Most of his material is literally brimming with substance, sterling songcraft and is delivered with outstanding vocals (somewhere along Billy MacKenzie of The Associates), which renders his relative obscurity rather puzzling.
This 7-inch found its way among Iv/An's best releases. The approach to early EBM tropes owes more to the 70's predictions of the genre, found in Bowie's industrial funk and West-German Motorik releases, than to contemporary fusion with techno. There are tasteful nods to the Yugoslavian alternative masters, such as Max & Intro, Borghesia and Paraf. Both songs are nailed with strict and juicy, yet well tempered beats, while the velvet synths paint the scenery with lush strokes. And the hooks are damn catchy.
Finally, the vocals. Iv/An weaves the intricate melodies with admirable sovereignty, wielding his voice with a prowess of a serious artist. With all the distorted vocoderisms peculiar to the genre, it's refreshing to be taken on a meandering journey through the scales, reaching well beyond frugal commands of common body engineers. As for the lyrics – if you don't speak Croatian you may as well enjoy the Slavic exotica, but it won't hurt to be aware of the references. The first song rekindles the original dystopian novel "We" by Yevgeny Zamyatin, while the second tells the tragic tale of the peace activist Josip Reihl-Kir, murdered by Croatian nationalist thugs during the war following the breakup of Yugoslavia. His name is deliberately consigned to oblivion by the authorities, possibly because of their own orchestration of his execution.
If the music pushed your buttons, consider acquiring the actual vinyl release – in this age of DJ-fodder 12-inch EPs, a real 7-inch single is a delicious curiosity. The cover is adorned by an exciting dada-collage by Franz Falckenhaus and an exquisite typographic construction by Iv/An himself, which provide this item additional meta-sacral merit. Treat yourself to this luxury for just 6€, as the release is out on the fine Austrian label Fettkakao.
Label: Fettkakao
Rating: 8, 5