Published by Davide Pappalardo on January 10, 2019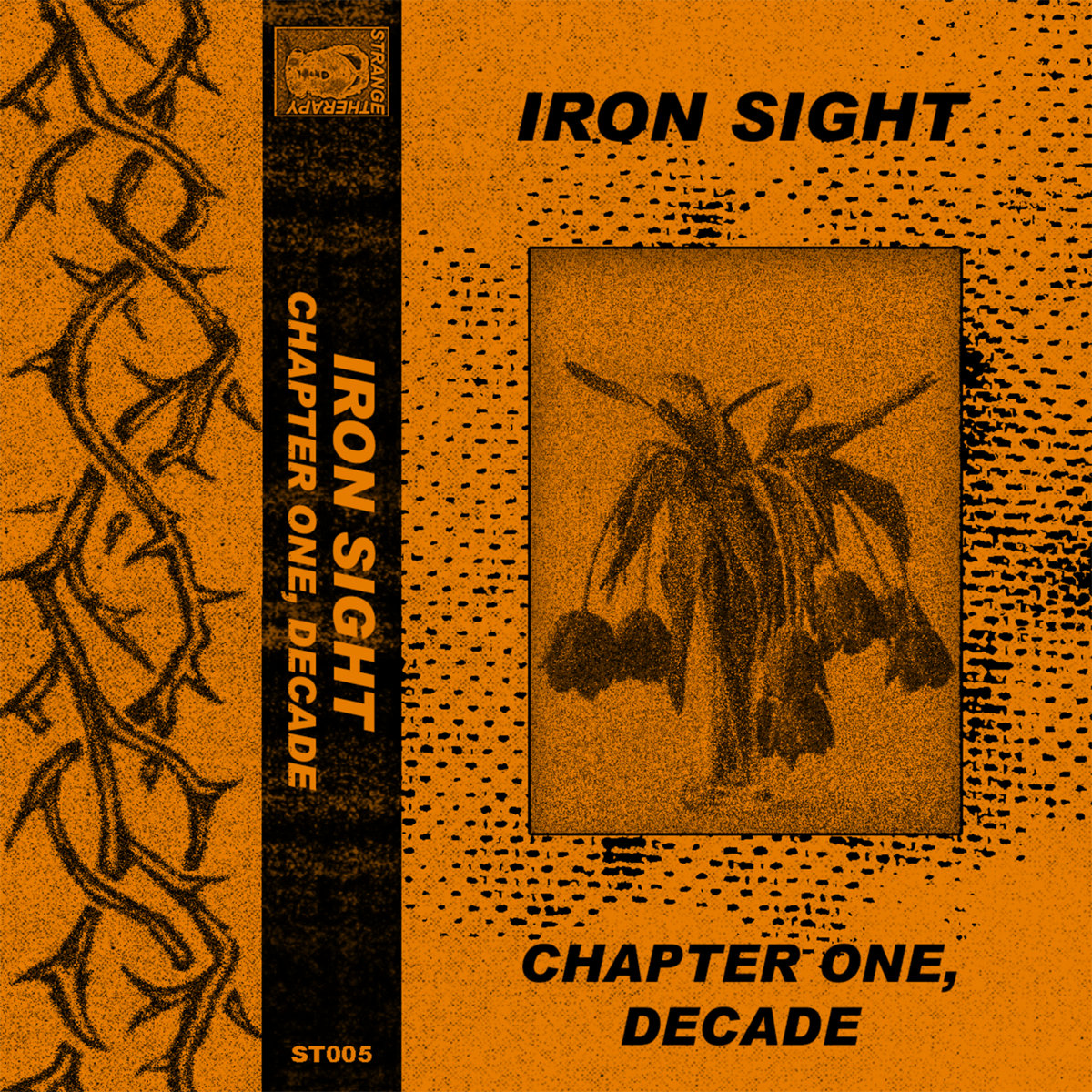 Iron Sight is the power electronics/industrial project of Isak Hansen, the third member of The Empire Line with Christian Stadsgaard and Jonas Rönnberg (Varg). Here he presents a very personal take on the genre, aiming not to shock the listener, instead pursuing a cathartic experience in which orchestral parts, ritualistic mantras, full-front assaults and an ominous atmosphere are present.
After the very limited single A Single Breath (Moral Defeat, 2017) and the EP To You Who Broke My Heart (Instruments Of Discipline, 2018), the project returns with the cassette Chapter One, Decade published for the Netherland-based label Strange Therapy. A mutant sound characterized by different elements welcomes us, employing ambient lines, sharp noise drones, ritualistic rhythmic patterns, and desperate vocals full of anguish, sufferance, rage.
Years starts the work with its grim ambiances and distant sounds, soon showing evocative and soothing sounds full of melancholic orchestrations and sadness. Shouted vocals find their place in a fierce declamation empowered by the growing sonic tension. Hide showcases ritualistic patterns among dark-ambient soundscapes, before collapsing into an industrial-themed cacophony with shrilling distortions and majestic atmospheres. A crawling but brooding structure guides us toward the cathartic end made of silence.
Blades is a militant affair with subtle dark techno vibes, starting as a serpentine movement underlined by brooding loops, then adding agitated vocals and steady rhythms. The track doesn't explode, keeping a controlled songwriting in which nervous elements scrap the surface. Weekend embraces a throbbing sequence with hypnotizing qualities, upon which distorted vocals are layered and mechanical effects create a disorienting atmosphere. An experiment reminding us of the heydays of the genre, especially of Test Dept. and their anarchic take on industrial music.
The final track Echo ends the work with sombre piano sounds and shrilling, distant effects. Whispered vocals evoke a sense of regret and melancholy, echoing a past which haunts the listener. Once again, Iron Sight doesn't stun us with slab of noise, instead he goes deeper under our skin and search for hidden sufferance. A perfect ending for a wok which doesn't forfeit the more human side of modern noise/industrial music.
Chapter One, Decade is another great issue in the series of Strange Therapy 's cassettes, showing another different facets of today's noise music. This isn't brutal power electronics with shocking (and overused) images concerning serial killers and concentration camps, this is a personal work in which life experience and memories are exorcised by the means of droning mantras, sharp and mechanical sounds, and very human vocal deliveries .
Label: Strange Therapy
Rating: 7,5