Published by Davide Pappalardo on March 11, 2021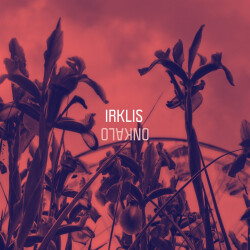 Latvian project IRKLIS is the brainchild of Robin Brüning, Roman Alexander Brüning and Aleksandrs Olgerts Berzins, previously members of experimental techno outfit Audioscope. Under this moniker which is used in Latvian for oar/helm in a poetic/philosophical way, they pursuit a rhythmic sound informed by abstract synths, minial rhythmic patterns and cold ambiances and robotic vocals.
2014 saw their debut The Plague Year under the label Sturm, a perfect example of minimal and steel-like industrial soundscapes, and in 2017 they returned with the sophomore record Aus Dem Ruder for German label Sleepless Records Berlin, further expanding their sound with glimpses of dark ambiances, wave elements and old-school motifs presented in a modern setting.
Now they present their new album Onkalo (Void), a 11-track venture offering a new mutation of their main theme. You will still find minimal structures and moody atmospheres, but with more of a sci-fi sound and passages rich in pathos and enthralling narratives. The final product reminds as of electro and elegant experimentation, but there are some harsher moments that will remind us of the more feral aspects of the project.
Landfall is a perfect introduction to the album: after a cinematic welcome offered by eerie drones, a steady kick drum moves amidst throbbing synth sounds and evocative choruses. A mix of "gothic" undertones and futuristic atmospheres which works surprisingly well. Pale is an enigmatic mutant synth-pop track with nocturne atmospheres and crawling vocals with an alarming undertone, a track enriched by shrilling synth sounds and obsessive kicks wisely mixed with moody melodies. Harsh and softer elements are placed in the right sequence and work together flawlessly thanks to the songwriting, and even the robotic vocoder can duet with the human element without problem.
Fahrt ins Ungewisse employs piano sounds and slow movements in an emotional take full of melancholy, then harder distorted kicks have their say without interruption for the main path. Abstract motives and soulful melodies are aptly used in a cinematic episode craftily conceived by the authors. Shine dwells in chaotic noises while a militant march moves among rhythmic mantras and a coarse voice sings its sharp tune. The crescendo offers a growing pattern full of controlled energy, while celestial synths complete the scenario offering captivating motifs.
Asche reminds us of the recent past of the project via distorted lines and hard rhythms perfectly fitting the harsher distorted voices. We are not vary far from the sounds of early 90's rhythmic noise, but sudden sparks of piano melodies and syncopated moments add the unique modus operandi of IRKLIS. Into Eternity is an enthralling number with a sort of funk motive perverted by cyborg vocal deliveries and robotic synths. Old-school minimal melodies and driving refrains offer a playful mood which reminds us of early 80's experiments from artists like Fad Gadget and Warning.
Onkalo is a quite interesting and accomplished effort offering something different from current trends and fashions. While using a large amount of old-school elements and structures, IRKLIS know how to shake things up with some modern sounds, mixing even different genres in inventive ways. We find us I the world of proto-music where the embryos of electronic tracks are mutated in order to create something emotional, eerie, aggressive and yet melancholic, nostalgic and forward-thinking. Recommended for a deep listening session.
Rating: 8
Label: STURM