Published by Alessandro Violante on September 4, 2023
Article preview image by Hidrico Rubems
Approximately two years ago, we've made an interview with Zanias to talk about her album Unearthed. Today, we make a new interview with her to talk about her new European tour organized to promote the release of her new album Chrysalis, released few months ago by Fleisch. With her new album, Zanias confirms what told in her previous interview, when she told she would never repeat the same album twice, and today we can confirm it once again. We'll talk with the artist about these topics.
Hi Zanias! Two years ago, we've done an interview with you to talk about your previous release Unearthed, and I'm very glad to talk with you once again, this time about your new European tour organized to support the release of your new album Chrysalis, as I consider you among the most eclectic and interesting artists of our age. I follow your music since your experience with Keluar and I've always much appreciated your artistic path. What would you like to tell us about your new tour?
Thank you, it's always nice to know my work is appreciated.
The new tour is a continuation of something we started earlier this year, adding Neu-Romancer on bass guitar and presenting much of the new album and some updated versions of older songs. It's a whole new experience for sure, I've never felt more excited to play. What's extra special about this tour is that the album has been out for a while now, so the audience is hopefully a bit more familiar with all the new material.
The first show of the tour has been held in the historic venue of SO36 in Berlin, together with Unhuman & Petra Flurr, Phase Fatale and Martial Canterel. Only few days ago we've done an interview with Unhuman & Petra Flurr, in which we've also talked about that show, and recently we have interviewed Phase Fatale to talk about the fifth Bite Records anniversary. What would you like to tell us about that show? How was it organized?
As always it was a frenzied delight to play for the 'home' crowd, and this one had an even greater density of close friends than any other we'd played recently. The amount of love in the room makes the gig harder to get through, but simultaneously so magical that I never want it to end. A highlight was the inclusion of our friend Skelesys who joined us on the guitar for 'Chrysalis' at the very end. It was my first time playing with more than just one other person, and the first time since highschool that I had a guitar on stage.
It felt like coming full circle in a way, since the very first Zanias show ever was in support of Martial Canterel. Even the sound engineer from that first gig was in the audience at SO36, and so many other friends and supporters from the very beginning, bearing witness to a tremendous deal of growth. Zanias is not the same creature anymore. This project is now a band with a force and energy I am incredibly proud of.
The show was mainly organised by Manos aka Unhuman. As always, he did an incredible job putting together a dream team for the event.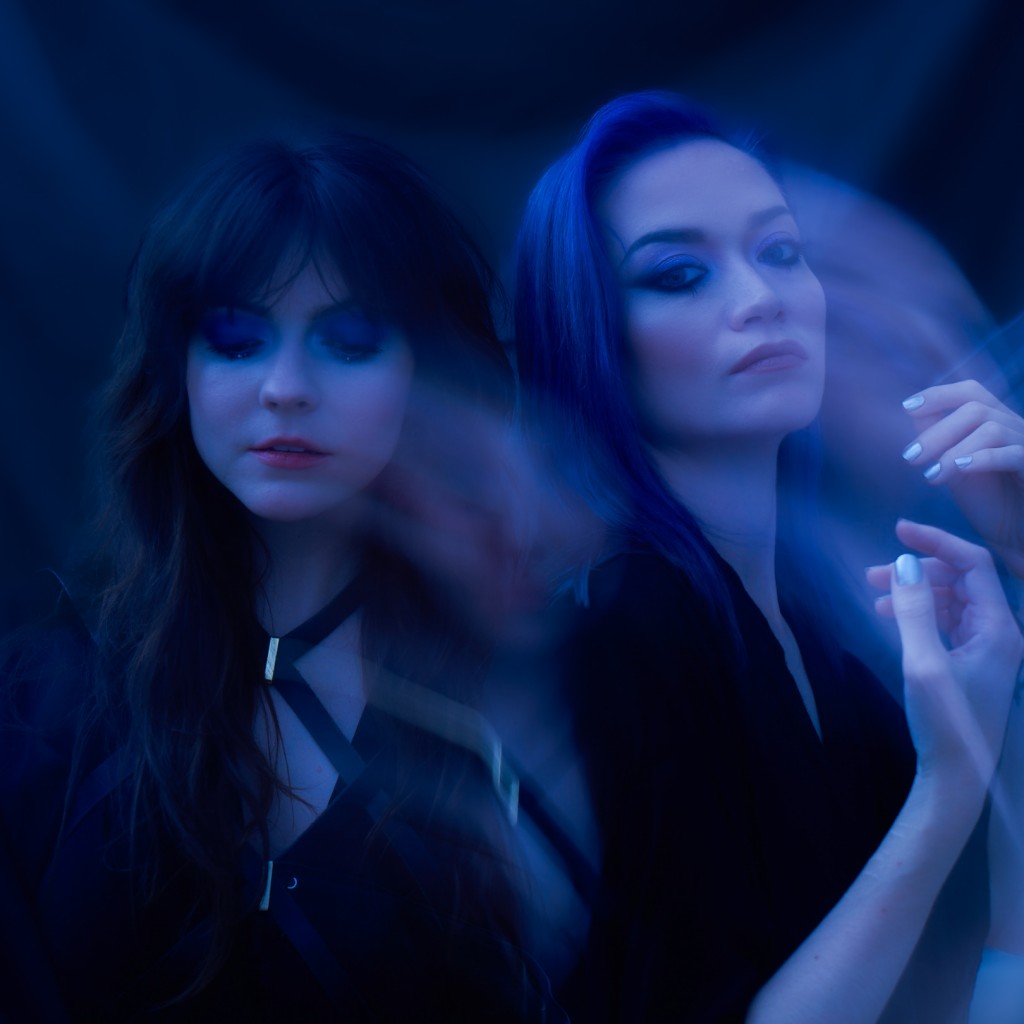 Neu-Romancer and Zanias picture by Tim Darin
In this tour, you play together with NEU-ROMANCER, which release Neue Romantika has recently been released by Fleisch. Two years ago, you told us that you had collaborated with her on your song Undreamt, included into your album Unearthed. What would you like to tell us about how this collaboration evolved during these years and about this artist?
Neu-Romancer has become an indispensable co-conspirator. Even though I still mainly produce alone, she's a part of the band now, and we've been through so much together that it's hard to put the depth of our connection into words. Her bass will appear on more of my tracks, and we always talk about collaborating on other elements too – the only thing stopping us is that outside of our touring, our schedules are insanely busy. But the time will come.
In your last interview, you told us you would never repeat the same album twice. Listening to Chrysalis, I can confirm it too. I've always agreed with this since your early releases. I've understood you've a very courageous artist who doesn't care about reinventing herself in each album. I think that Into The All, Unearthed and Chrysalis are three very different albums which, however, share your solid trademarks. What would you like to tell us about Chrysalis?
It's the work I was the most confident in creating, and I think that shows. I was thrown into a weird position at the start of this project from being relatively well known in the underground scene through Linea Aspera and Keluar, so felt this tremendous pressure to produce before I'd actually learned how to produce to a standard I was happy with. Expectations were high and I just wasn't ready to meet them. 'Chrysalis' was partly named because it felt like during that time at home in Australia during the pandemic I was undergoing a metamorphosis both of my personal character and my artistic expression. I give no fucks about expectations anymore, and I absolutely love producing more than anything else in the world. I used to have a hard time getting the motivation to work and listening back to my tracks felt painful, but now creation feels truly fun and explorative, and listening to what I've made is something I look forward to every day. I figured out the sound that's missing from the world and now I make it myself. I've fallen so deeply in love with that process, and 'Chrysalis' is a true expression of that.
In Chrysalis, you've embraced an imaginary we could call "cyberpunk". I think about the new logo, the videos done for Simulation and for Metrics and the tour artwork itself. As I like it very much, I would ask you how have you decided to embrace it.
My direction doesn't really feel like a 'decision' so I can't tell you how I decided any of this. I'm just an alien fairy creature making what looks cool to me. All my video shoots are done with no real plan. The 'Simulation' shoot was literally a party that we filmed with very little direction for the cast except "walk that way, sit here, now dance, dance, DANCE!". Some of my bestest friends were DJing the whole night and it turned into one of the best parties we'd ever thrown. 'Metrics' was made with my mother and my sister taking it in turns holding a GoPro and iPhone (and momentarily operating a drone that I taught my sister how to use that very day) while I clambered over some rocks in Australia that I and my mother and my grandparents all played on as children. My aesthetics are just reflections of who I am and what I'm drawn to, whether thats Berlin basement raves or coastal limestone outcrops.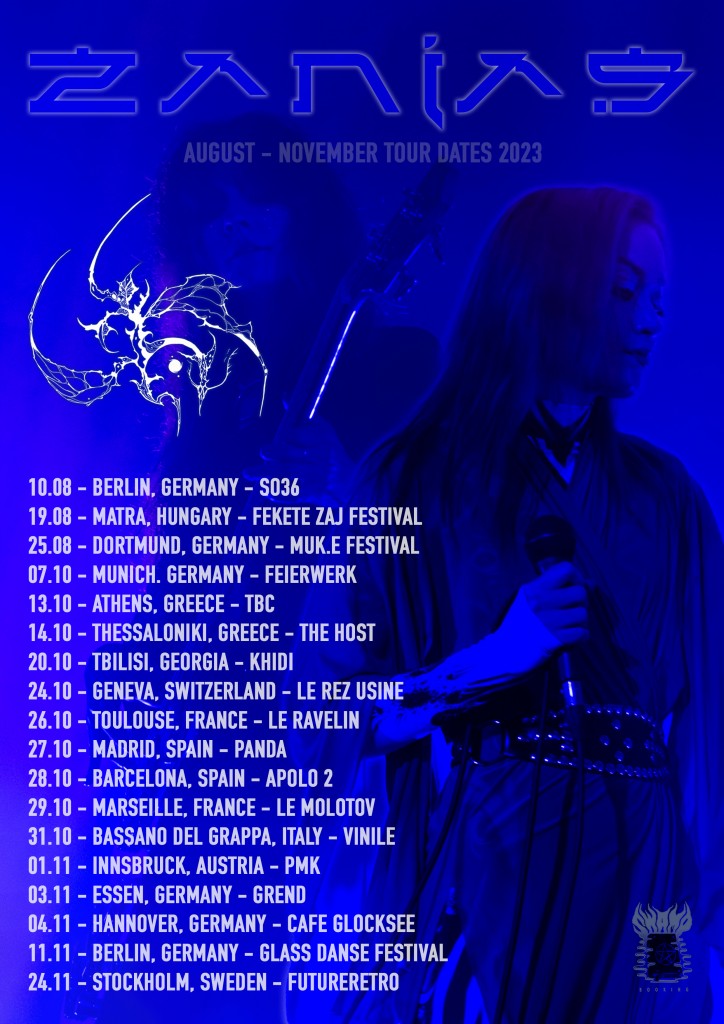 Zanias new tour dates
If I'm not wrong, with Chrysalis, it's the first time you've released singles each having their videos before the album release. I like a lot this thing, as nowadays it's not a so common pratice when talking about electronic music, but it reminds me of my youth. What have you brought you to do so?
I just finally had enough time to plan for it! Music releases, especially independent ones, are often at the behest of life's infinite chaos. This was the first instance in which I had the time and resources to plan ahead. Almost nothing in the modern underground music business is done for any reason other than 'this was the only way we could do it'.
What could you tell us about the artwork done for the tour and for your album? How were your videos directed and who did them?
The artwork was a collaboration with the incredible Hidrico Rubens (who also did the artwork for a recent Grimes single, as well as Neu-Romancer's EP on Fleisch and some upcoming Fleisch releases from other artists as well). We did a photoshoot last November then he worked tirelessly editing the photos until we had something that felt right. The logo was designed by my favourite tattoo artist, Nat Soba, and Rubens did the 3D editing to integrate it into the 'Chrysalis' universe.
'Simulation' was co-directed with the cinematographer Janis Reichert and co-produced with my friend John Rohrer, and I edited it and did all the effects myself. All the other videos I produced, directed and edited entirely myself. 'Burial' was probably the most random one – I booked a day in a studio with Neu-Romancer and our makeup artist Eavan Derbyshire and set up a camera and just shot some stuff, then edited it later. I had almost no money at that point and was just using the resources at hand to make something.
From what I've read, during the live shows of your new tour, all your songs will be played together with NEU-ROMANCER. It seems to me a very interesting thing, as in this way, when you play your music live, you'll offer to the audience a different listening (and, of course, visual) experience. When you make music, is that primarily conceived to be played live or to be listened "at home"?
I don't think about anything when I'm writing except 'do I like this?'. Since so much of Chrysalis was written in Australia at the tail-end of the pandemic when I was kinda convinced I didn't want to ever tour again I wasn't really in the 'live' state of mind, so 'do I like this?' didn't necessarily include the thought 'will I enjoy playing this live?'… I was just lucky that it worked out that I very much do. But more recent work is heading in that direction more since I'm starting to feel the hunger for more energy after playing so much this past year. That's why it helps a lot to have Neu-Romancer on bass since it adds a grit and beef to the sound that helps elevate the less directly energetic tracks into something more fun to play. Keeping live gigs exciting is very important to me, which is another reason it's so good sharing the stage with someone. Ultimately though, I'll never be making music with any guidance stronger than my own taste and feelings.
In the video directed for Metrics, the natural and the artificial "worlds" are bonded together. I remember that, some years ago, when we interviewed you during the Keluar years, you talked about the importance of nature and of natural elements in your music. In your music, it seems to me there's always this dicothomy. What can you tell us about it?
Once again, it's just reflecting who I am. My heart is perpetually split between rainforests, waves, coral reefs… and the cold, industrial nightlife of Europe. I can't leave one or the other, I need them both. So I find ways to express them both.
It would be absolutely unuseful to ask you where you think your music will move to in the future, as it is subject to constant transformation, but where do you think music will go to in the next years?
Between the climate emergency and the increasingly rapid pace of technological innovation, the future is no longer something I feel knowledgeable enough to even guess about. Music looks like a tiny footnote of history as we enter into a black hole on a civilisational level. Enormous changes are about to take place.
If we can imagine a world without a climate apocalypse though, the accessibility of music creation is about to reach saturation point, and I have to wonder if there'll be a backlash against AI-made music favouring 'sound made by living flesh', and demonstrations that artists really can be musicians and not just technicians. It's all so hard to say though… This moment feels like a precipice. Beyond it lies total mystery.
Ultimately, I try not to care where anything else goes as long as I can keep doing what I'm doing and have access to music from others that I find inspiring.
The main things I hope for are that we act on climate change, end growth-based capitalism and send the fossil fuel company CEOs and all who've supported their apocalyptic orgy of greed to the guillotine. Then we can figure out whether music made by AI is actually good or not. There is much to be done.