Published by Davide Pappalardo on January 14, 2020
Today we talk with Thrae aka Luigi Traettino about his label Medieval Heresies and the debut compilation "Nothing to Declare", featuring artists of the caliber of Fairground Of Tears, Nathaniel, Exome, Dj Loser, and other names. You will find a mini review of the V.A at the end of our review.

Welcome on Flux! Medieval Heresies is a new reality of the techno industrial panorama. What can you tell us about the conception of the label and its aims?
Hi Davide, my pleasure speak with you for this interview on Flux.
I'm so proud to talk about my label, Medieval Heresies, because it's my own personal project: I'm founder, owner and admin of the label and I cure all details.
The label float inside the darkest part of electronic music, where there is a thin line which separate weird and normal things. Medieval Heresies aims to work in the alternative/electronic music scene with raw techno, ebm, harsh noise, darkwave, experimental works promoting tape (cassette) releases which arouses listener's feeling.
I'm so grateful because I received supports from many artists of the scene such as SNTS, Philipp Strobel, Illnurse, The Brvtalist, Lee Adams, H880, Aneed, Istigkeit, etc… and many demos and requests for release on Medieval Heresies, which means many people appreciate my project.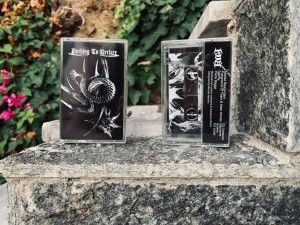 The first output is the VA "Nothing to Declare" hosting names like Nathaniel, DJ Loser, Exome, Fairground of Tears. How was it born?
"Nothing To Declare" was born in my head first and then 1when I got in touch with artists, they made exactly what I was looking for; the entire work reflect the label's vision, the void of experimental music, real mental stuff. I would say again thanks to all artists involved into the various artists which bring to life an idea just in my mind: Morbid Descendant (myself & A Birth Defect feat. Unholy Existence), Fairground Of Tears & Ireen Amnes, Rune Bagge, Nghtly, DJ Varsovie, Nathaniel, Exome, DJ Loser.
What's your background? What did promt you to start a label?
Essentially I was born as DJ in 2008 starting to mix with a turntable and with an old basic cdj (so fetish…) in a friend's home, some months later I started to work with hard-techno crew of Naples, called Hardfactory. In meantime I always found interest in music production, so I started to use Ableton as a rookie and my curiosity brings me year by year to be a synthesizer addicted (eurorack especially).
My music influences comes from many sides of the alternative panorama such as Radiohead, Placebo, Iron Maiden, Depeche Mode, Joy Division, The Soft Moon, Aphex Twin, Boards Of Canada, Caterina Barbieri, etc…
I start my own label because I feel like I want to share my vision of music with people, having opportunity to release projects that I personally respect and estimate giving also my contribute to the scene.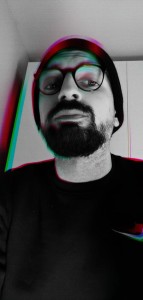 You are one of the many Italian artists in the current techno industrial scene. Many of them have to emigrate, most of the time in Berlin, in order to have a real possibility of developing a career in music. What do you think about this situation? Why is it so difficult to have a strong techno industrial scene in Italy, despite so many producers come from it?
Honestly, I think is really important to be in the right place, many persons talk about places like Berlin because it gives many opportunities to young artists to grow up with their career; electronic music is inside Berlin's culture so, they have many contests and situations compared to other countries, in this case Italy.
Italy always had a good music culture with a lots of young talent artists but not all of them grow up with their career. We're full of talented guys but sadly in music industry talent isn't all. I confirm there are a lots of artists, labels and promoters which are making really interesting things here as well, that's why all we need support from people.
What are your plans for the future? Do you have already new releases in store?
Sure, I'm working on new releases of the label; after first compilation, the label's plan expect some EPs in digital and cassette limited edition, remixes in them as well. Many details coming soon…
Thank you for your time. Feel free to add anything for our readers!
It was a really pleasure spend some time talking with you.
Thanks to Flux staff for the support which already express for me and for this interview as well.
Thanks to all the readers and supporters and please don't forget to check and follow Medieval Heresies for more news!
Facebook: https://www.facebook.com/medievalheresies/
Instagram: https://www.instagram.com/medieval.heresies/
Bandcamp: https://medievalheresies.bandcamp.com/
Soundcloud: https://soundcloud.com/medievalheresies
Various Artists – Nothing to declare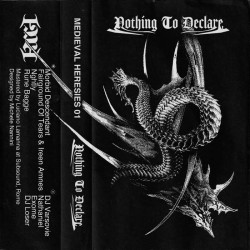 With Nothing to Declare the label starts its journey in the world of contemporary techno industrial with acts like Fairground Of Tears, Nathaniel, Exome, Dj Loser, Nghtly, Morbid Descendant, Rune Bagge, DJ Varsovie.
Label owner Thrae collaborates with A Birth Defect and Unholy Existence in Morbid Descendant's track Reckoning genocide, a dark affair with noisy sci-fi innuendos and stomping bass sounds. The track evolves into an hard-hitting voyage with factory-like industrial rhythms. Fairground Of Tears joins forces with Ireen Amnes in Walking down the dark hall offering grim soundscapes and controlled tension in an atmospheric techno number with enthralling motifs.
Nghtly offers a in A young white branch dwells in retro territory with old-school synths, EBM bass-lines with a throbbing quality, and straight rhythmic patterns. A techno/EBM episode graced by droning passages and 80's elements. Rune Bagge's Black sherb touches acid ambiances in a track made for lysergic nights at the dancefloor, a square affair with straight-forward rhythms and fast snare drums.
DJ Varsovie offers Cindy and its dark techno sound with deep bass and syncopated drums, another example of classic techno motifs redesigned for an ominous experience. The track keeps its hold on the listener without forfeiting some bleeping melodies. Nathaniel's Entering the gates is a cinematic piece full of drama and obsessive steel-like structures which doesn't explode, evolving instead step by step with the adding of new elements. There is kind of "gothic" quality to the track rendering a very personal atmosphere.

Exome gives us  Disfigurement, an harsh take on droning rhythmic sounds in which dark ambient and noise find a common place. A game of suspense guides the listener through horror-tinged vocal samples and alarming sections. DJ Loser's Vommith truth ends the compilation with throbbing acid techno elements and coarse broken rhythms. An alienating atmosphere is underlined by sparse distorted rhythms and shrilling synth sounds.
Rating: 7,5