Published by Davide Pappalardo on March 4, 2020
Tempers are an American post-punk duo with strong synth and post-rock influences.
Eddie Cooper and Jasmine Golestaneh conjure a highly enjoyable sound with both vocal and sound melodies. Today we interview them about their music.
Welcome on Flux and thank you for your time. Tempers are one of the realities in the recent wave of post-punk/synth bands. Your first album Services was released for the now mostly techno/EBM oriented label aufnahme+wiedergabe in 2015, then you had a release for BMG Entertainment (Junkspace), and finally arrived on Dais with your last album Private life. How was the project born? What can you tell us about this journey?
Jasmine: The project was born from a telepathic creative connection that Eddie and I share. We would spend a lot of time improvising together and found that our sensibilities were really well aligned. So much so that we didn't really need to say much to write a song together, we had this collective instinct on how a song should go. Things haven't changed that much, writing together still feels effortless and surprising.
Private Life showcases an even stronger attention for songwriting, melodies and atmospheres. Jasmine voice sounds more focused and the music enriches its character. That's not to say your previous works are not well done, but one can perceive a growth. Do you agree? What about the album conception?
Eddie: I think our aims are always pretty clearly defined when we're writing, whether it's a concept album like Junkspace or a more traditional album like Private Life. In this case, we were working on both albums simultaneously, and by the time we returned to finish Private Life we had such a clear idea of what we wanted it to be.
Guidance is a track with more of a groovy electro feeling, recalling the sound of Junkspace and its more electronic nature. Are you open to the idea of going beyond the limits of genre tags and crafting your own sound with different emotions and styles?
Jasmine: We've never been interested in fitting into a specific genre, our first album has acoustic songs on it, as well as electronic danceable tracks. It's more important for us to use sonic elements freely to express ideas and feelings, rather than be categorized by them.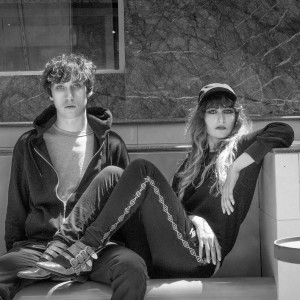 What about your influences? Of course you are informed by darkwave, synth-pop and post-punk, but we can find post-rock and other elements in your sound.
Jasmine: That's well observed! Post-rock is a deep influence – bands like Slint, Tortoise and Shellac were all very seminal for me as a teenager, and I think that sensibility is embedded in our sound.
You are American, as other darkwave/minimalsynh acts like Boy Harsher, Drab Majesty and Void Vision. How is the scene there? Do you think there is more interest for these sounds n Europe?
Eddie: When we first began Tempers there was definitely more interest in Europe for the kind of music we make—what's been great to see over the past few years, though, is that the American audience for dark music has increased a lot
I bet live shows are quite important for your music. What can we expect from one of them?
Eddie: Performance is so important to us, because it's how we translate our music from its origins in our studio into human connection and interaction. I think we bring a kind of narrative to our live performance that goes beyond simply playing the songs. But we'll let you be the judge.
Do you have already any new projects in mind for the future?
Jasmine: We have new songs in the works, but we're not allowed to reveal too much at this point. Stay tuned.
Thank you for you time. Anything you would like to add for our readers?
Eddie: Thanks for listening. It means so much to us that the music we make can reach people.