Published by Davide Pappalardo on December 29, 2019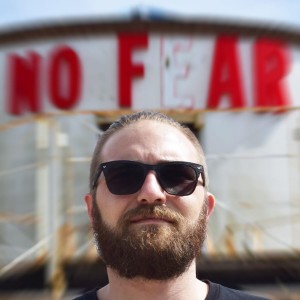 Francesco Presotto aka Søulless is a rising name in the world of techno industrial and noise music. Coming from a techno background, he approached the world of aggressive alternative eletronics with great fascination, leading to the creation of upcoming projects like Geometria Nervosa with Sara Ohm, Førgotten with her and Davide Pappalardo (the interviewer) due for an album under Unknown Pleasures, and Dark Ambient Unit with Nicola Cimmino aka Sharplines. Here he talks about his music and his unrestrained opinions and ideas.
Hi Francesco and welcome on Flux. Thank you for your time. Søulless is on a roll at the moment: EPs, podcasts, and more. Many people are getting to know you, but actually you have been active for 10 years. Would you like to tell us your story?
Hi Davide and thanks for having me, it's a big big pleasure for me. You're right, lots going on for Søulless, and lots of support growing especially from South America. I'll it 10 years of career in 2020.
Well I grew up listening to my older cousin collection, from Led Zeppelin to Frank Zappa, from the trash metal to the Industrial. Actually the first album that was given to me for my 13th birthday was 'Pretty Hate Machine' by Nine Inch Nails and I was so fascinated but how it sounded, without any knowledge on music. At 14 I started play bass, I was a huge Guns'n'Roses fans so I stalked my dad for a Kramer replica of Duff bass. Then was an escalation playing metal, metalcore in various acts, and touring.
But i was always involved in the electronic and techno scene. Those years the progressive techno was an hype so I attended lots of set from legendary DJ such as Ricky Le Roy, Mario Piu, Franchino and all the BXR crew. Later, being from a borderline country, I went to the most famous Slovenian club, Ambasada Gavioli, and I discovered a new world, higher bpms, darker sounds, names like Sven Vath, Jeff Mills, Takkyu Ishino, Umek, that played this insanely high pitch and raw techno. From there I started producing on my own, first a more classic and mainstream techno but then in 2010 I created Søulless and incorporated all my backgrounds to create what is nowadays Søulless sounds.
You are going to release an EP with Occultists. What should we expect from it? Is there an evolution on act in your sound?
Yep! And I'm so happy for this! The EP is called 'Anarchy in Hell' and will be out on January 10th 2020. The EP is a mix of all my life experiences and musical backgrounds. So don't expect the classic 4 tracks club oriented EP, but more likely a mini album, 6 tracks plus 2 remixes by Occultists owner and funder (and a real brother and family to me) James Demon. The release go from industrial techno of 'Hard Bastard' to the more electro of 'Montauk' but who knows me know that I don't like genres definitions so for me is a really good electronic EP. In fact the album had received some super feedback yet from lots of artists, like Crystal Geometry, Adnan Bajramovic, Alpha & Necromante, Gigi Galli, Sharplines, Nathaniel just to name a few. But Søulless is always evolving, so this is only a minimal part of what I love…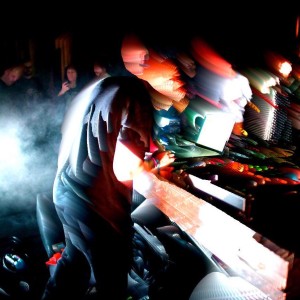 I know you are working on a very special release too, an anniversary album with prestigious names from all across the scene. I would like to know more about.
As I told you before in 2020 I'll hit 10 years of Søulless so I decided to celebrate with a really big thing. An album with all the artists I've met and changed my way of seeing music in one way or another. If you follow my socials, you know I announced some of the guests, Vanity Productions, Crystal Geometry, James Demon and Bad Faith Actor, so I take this chance of the interview to announce the next one, a person I really love both as artist and human, for me one of the most exciting act in the global scene..Henry Hearse.. The album will be out in 2020 obviously, and will be both physical and digital. With a really cool artwork! So stay tuned…
You are very vocal about your opinions, something that is getting you friends and enemies alike. Feel free to say what you want here.
Oh yes I never fear to speak my mind. As many knows I'm not a big fan of the fake so called Berlin Scene. I only respect really few people from there, and this is people who everyone knows, Max Durante and Adam X among the others. For me the scene doesn't exist, and Berliner should understand that talented artists is not in there. Friendship with label owner to release on a big label doesn't make you a true and talented artist. They think they own all the truth of the world but that's not like that..in my career I had the chance to confront myself with icons like hypnoskull, Max Durante, Pet Duo, Codex Empire, Rodolfo Protti, Paolo Bandera, and what I can say is they're all humble, opened to the new and so respectful.
The new scene from Berlin are made by girls that play even without talent and only for beauty, except for some girls really awesome and talented, by mediocre producers that I won't name for a sense of respect, that are engaged one with another and release and play in the same clubs. If you notice, the head of this group is pretty know in Germany, but outside is Mr.Unknown.
I had an altercation with one of them, recently, while I was defending a girl from being covered of shit for an error. But he's not smart enough to understand the big view..he also said I need to learn to play before chat with him..I was playing around when he was still shitting in his pants..but hey the young doesn't pay respect to the oldest, especially when you call out one of their crew. And guys their all assholes from first to last…
Fans and audience should know that you need talent and hard work in order to be a good artist and not only friendship..
Berlin scene is about to blow like a bubble and only the real artists will survive. The best from industrial and techno are now coming from South America, acts like Alpha&Necromante, Bad Faith Actor, Magnus Opus, Melanie Heaven, Silenzo are taking over the scene, same goes with acts like Sharplines, myself, Bestial Mouths..
Guys the scene is about to change and go global..
I have some words also for some Italians…especially one, known because he supported some acts here in Milan. You're not able to mix, you don't even know the music you play and you ask to others to have music because your knowledge is pretty low zero..better if you drop your music career or start acting like one that have lots to learn and admit it and confront with others..
That said I also have lots of friends in the scene that I admire, I respect and I confront every time I can.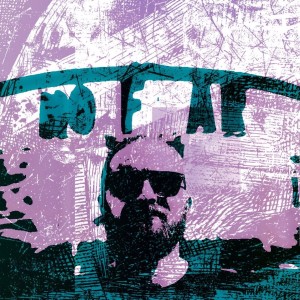 You come from a metal and traditional techno background. How does it effect your production?
If you listen to my tracks you can see that the structures of the song are not the usual techno ones. This come from my metal background, and this is why people like my productions, because they are unusual. It's important to evolve with sounds and push boundaries and this is what I do, using my roots in metal music and experiment with electronics
 Are there any names in the scene you feel like your peers?
Sure! James Demon are family to me, Sharplines is super cool and I love confront myself with his talent, She Lost Kontrol guys are amazing, Carmine, Giovanni and Alessio are super dedicated and lovely, Sara, my punk twin, mu half in Geometria Nervosa. You, you are one of my best mate and one of the person with the most wide and deep musical knowledge. Dragan Greensmith, a guy that know the music industry from ages and always helped me growing in my career and also as person..I know I forget for sure someone but I really love lots of people in the industry..
 How do you live your concerts? Are they an added element to your art?
Sure, live is most important than studio album for me. I love to perform both live and DJ set, incorporating live vocals lots of energy, basically I'm a poor version of one of my idol Samuel Kerridge.
But copy is the highest form of admiration so..
 Thank you for your time! Anything you want to add for our readers?
Thanks to you for this interview.
I just want to say to all one thing and is not promoting myself..
Support the underground, the real underground, the one who really deserve it. Big names need your support but the new ones more..
I want to suggest you some names you should mark for the next future..
Sharplines, Bad Faith Actor, James Demon, Melanie Heaven, Filmmaker, FBNM, Crying Skies, Sara Ohm..
Mark their names and support them!!!