Published by Davide Pappalardo on January 16, 2020
Today we interview Sara Ohm aka Sara Jansson, active as a solo noise project and as part of Geometria Nervosa. Her style mixes punk, noise, political themes and shouted vocals. Here we asked her some questions about her career, ideas, tastes.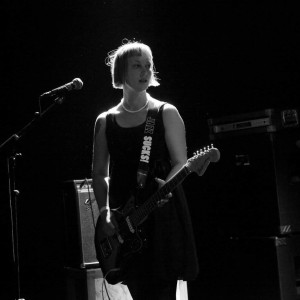 Hi Sara, welcome on Flux. I would like to talk with you about your music and your project Sara Ohm. How did it all start? I understand your interest in noise comes from punk roots.
Hello Davide, thank you so much for having me! I'm in a noise rock band called Videoiid, and initially Sara Ohm began as a project for me (in late 2018) where I could play even more experimental and noisy stuff. Over time it has evolved to be rather political also.
My interest in noise comes from three main sources: 1) me growing up with punk (and later no wave), which I still listen to today. I love Sex Pistols and Theoretical Girls, but my all-time favourite band is Suicide. 2) me spending a lot of time in Glasgow in 2010-14 and getting acquainted with the noise scene there, as well as performing live with OPAQUE, led by Kylie Minoise. Seeing Kylie Minoise live and buying most of his albums as well as some by the amazing Grimalkin 555 has had a huge impact on me. 3) my background as a classical pianist taking the step from Beethoven's stuff to Rachmaninov and from there beginning to listen to more noisy / minimal / atonal songs by Reich, Cage, Stravinsky has also influenced my music-making, which is minimalist to the core.
You have a vast discography with many singles on your Bandcamp page. Social problems and politics seem very dear to you: would you like to further elaborate on that?
Fascist and misogynist discourses are normalised and incorporated into society. In Sweden, for instance, the Sweden Democrats (a highly conservative anti-immigration party with a fascist background – in short, a fascist political party) is one of the biggest parties. Cops want to analyse sewage water for drugs but tell rape survivors there's no point in reporting the crime. So of course I'm angry. Fortunately there are strong positive counterforces out there. People are rising up against injustices all over the world, and @antifa.ultras.world are a huge inspiration to me ❤.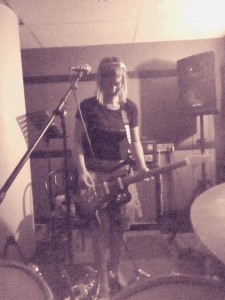 What are your ideas about Sara Ohm? Do you have a mind of evolving it with albums and EPs, or do you want to keep it as a "spur of the moment" thing?
I evolve it with albums all the time! My first album is on my bandcamp (saraohm.bandcamp.com), and so is my second release @saraohm81 ❤ @antifa.ultras.world – the latter is available as a cassette from the fantastic label @industrialcoast as well, and all proceeds, from digital and physical sales both, go to @antifa.ultras.world.
I have also been on a number of compilation albums released by Industrial Coast, most notably Anarcho Punk: Deconstructed Reconstructed with a cover of Shaved Women by Crass, approved by Penny Rimbaud. My third album on Industrial Coast will be released early 2020.
I make music all the time however, so I do enjoy the immediacy of releasing tracks hours after they've been recorded too.

You have recently formed Geometria Nervosa with Francesco Presotto aka Søulless. What can you tell us about it?
I am over the moon and super happy!! Working with Francesco is absolutely amazing! He's my Punk Twin and we have loads of things planned for this year!

The Swedish scene is famous in the world for many acts and genres, from Abba and Roxette's pop to Dismember and Entombed's death metal, from Marduk and Dark Funeral's black metal to In Slaughter Natives and Brighter Death Now's death industrial, and the list goes on. Have you been influenced from your country and its music?
Jazz Är Farligt (Jazz Is Dangerous) is an annual festival held at the funfair (yes) Liseberg in Gothenburg, organised by Elena Wolay. I have seen so many amazing acts there; Sven-Åke Johansson is a living legend, Joachim Nordwall did a great DJ set there last year, I love his music so much.
Orchestra of Constant Distress I really like, as well as the music by Johan Zetterquist. My dear friend Dan Fröberg makes amazing music I wish I could make myself, and I am lucky enough to get to collaborate with him on an upcoming album. I omit loads now, but these are a few at least.
Live question time: do you play live sets and concerts? How do you feel about them?
Haha! I play live quite a lot with Videoiid! As Sara Ohm, two out of three gigs have been cancelled! But I have played once at Kafé Haerverk in Oslo. It's a great venue with fantastic organisers, great atmosphere and loads of fun. They let me play real loud so I was happy. I recently received a tour grant from Konstnärsnämnden (The Swedish Arts Grants Committee), which will enable me to do a mini tour in Scotland and England in April 2020 as Sara Ohm, organised by the always amazing Industrial Coast, so I am very happy and excited about that!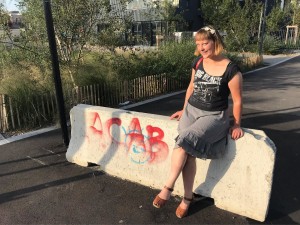 Any acts you feel like recommending to our readers?
Kylie Minoise, Grimalkin 555 and of course Søulless aka Francesco Presotto (my Geometria Nervosa partner). He is incredibly talented, and every day I get to work with him is a happy day! He and Sharplines recently started Dark Ambient Unit which is fantastic also! I would also like to recommend the works of Dan Fröberg to everyone – especially Stellar Burnout which is incredible. And all the bands and artists I've already mentioned. La Furnasetta I love loads and loads too – noisy industrial music. Finally, I would like to recommend MAG, Sheik Anorak and Isotope Soap, as well as Killerkume (the three former from Sweden and the latter from the Basque Country) and, if you're in Gothenburg or the vicinities, to attend gigs organised by Koloni.
Thank you for your time. Anything you would like to add?
Be kind to eachother, smash fascism, and listen to Johnny Dance every once in a while.