Published by Davide Pappalardo on July 2, 2022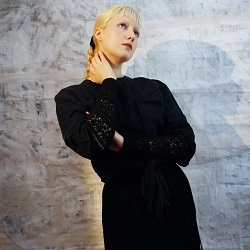 All the pictures included in this interview were taken by Jaakko Saarilahti
Today we interview Sally Dige about her recent single I Will Be The Sun For You, her music and development, and her idea about the difficult time we are facing.
Hi Sally, thank you for this interview. Your new single I Will Be The Sun For You is a soulful mix of nostalgic orchestrations, synth-pop undertones and acoustic elements. It follows your previous one It's You I'm Thinking Of, a track released more than two years ago; can you tell us what happened between these two songs? We all know too well how the world has changed in a brief time, but how did it impact you?
Apart from the usual pandemic experience (being without work for a good stretch of time, living on the edge of limited income, having difficulty in feeling motivated, etc), I was working on new songs and trying to figure out which direction to take the album. I allowed myself (and still do) the time for exploring, learning new instruments and playing in new ways. I think it's good to sometimes slow down and allow ourselves the time to explore more. I also shot 3 music videos, which took lots of time in planning, filming, editing and learning more about colour grading.
I Will Be The Sun For You seems to follow the theme of love already present in It's You I'm Thinking Of, albeit from a different perspective. In the previous track there was a sense of melancholy and loss, here we have instead hope, acceptance and a sense of being loved. I would like to hear from you about these themes, if it reflects a personal change and a way of being a beacon of hope in these hard times With "I Will Be the Sun for You"
I wanted to make a song and video that was entirely positive and uplifting. It's in my nature to fall into more melancholic themes in my work, but I wanted to challenge myself to do the opposite. It's easy to write about sadness. What is hard is to write about happiness. Everyone felt very stressed, down, and hopeless about the way things were turning in the world – some having it harder than others – so it made me want to create something that was hopeful in its message, because there is always hope in any situation.
Instead of releasing albums or EPs you have been releasing single tracks in the last two years, as previously stated. Is it part of a concept where you have the freedom of creating music without the pressure of a commercial product? I can't help it but think about a time when music was part of a community and a song was shared, interpreted, as part of a collective experience.
I decided after my second album "Holding On " that I didn't want to feel the pressure of the "Album release rat race" and instead take the time I needed for each song and video until I felt it was complete. I know there have always been 'rules' in this industry but I try to just follow what feels right to me. I am also an independent artist and am trying more and more to manage all the aspects around my artistry, which includes the business side of my music. Having my own label to release my music gives me total freedom (which I love), but it also adds more work too!
During your career one can see an evolution in both your music and image. You have always had a fascination about '80s sounds, but now your output has become more organic and somewhat less tormented; meanwhile, you became less and less elusive about your persona – as if you became more confident in yourself. What do you think about it?
I suppose it's the beauty of getting older. I believe we become more confident the older we get. The '80s sound and visuals have always been a big part of my inspiration, and certainly my earlier videos and songs were more 80s in sound and aesthetics, but my interests have shifted over the years (naturally by getting older) and I've never been a person who could repeat the same thing. After my album "Holding On" I couldn't bare to place an arpeggiated synth bass line on a track, nor bare to even look at the synth. I had written that album "Holding On" on one synth and layered the sounds on those songs to-the-max and I wanted nothing more to do with that approach after that album. I instead went back to my roots as a songwriter of playing with instruments that required no electricity (guitars, string instruments), recording live drums and trying to keep my programming to a minimum. I also love challenges. That's what makes me feel alive and excited. When something becomes too easy or formulaic it doesn't excite me. It's like being in a relationship that has lost its spark or like walking home the same path everyday. I need the mystery, the challenge, the discovery and excitement of something unfamiliar to explore. My upcoming songs take even bigger leaps from what I have released so far, as I have an upcoming country-folk song which is centred around the acoustic guitar, and I have jazzy piano-instrumental songs too with a string orchestration. Questions arose from some of my peers if I was worried about potentially losing my audience with the changes in my sound, and wondered if it would be wiser instead to "create a new project" for all these different musical releases – to not damage what I have built up so far. Those are all valid points, but my response is that I do not feel worried about change and the repercussions that may come with it. If I look at my diaries that I wrote from when I was 10 years old, 20 years old and now today, of course my interests and concerns have changed throughout the years, but what has always been present in all those diaries is: Me, My Soul and My Heart. Although I am changing in my creative path and telling different stories with different sounds and visuals, it is still my story. At the end of the day, there is only one fan an artist should never lose, and that is: Themselves. I've also allowed myself to learn as I went along. I know some people who crafted entirely the sound and visuals to a strict formula before ever releasing their project to the public, but I never did that. I allowed myself to stumble along the way, present myself as different personas, visuals and sounds, like an open diary, and not be afraid to tweak it, change and develop as I moved along my path.
I'm interested in hearing about your musical influences and tastes, what informed you and shaped your own sensibility, and what you are currently following
I don't know if any musical influence or taste has really inspired me as much as certain people I have met in my life. Of course there are always bands whose sound I liked that inspired my production or songwriting, but my musical style has consistently changed and developed so bands and music genres had temporary influence on me. The main influence that has informed and shaped the way I create came from people I met in my life whose way of looking at the world, music and life fascinated me a lot. The way these influential people saw life, art and music all as one thing. Friends who talked about music as pictures and paintings and finding sounds for those pictures, or friends who showed me how space, sound, layering, manipulation and so on could create new forms in sound as if it were a graphic design. Each 'teaching' from a friend always came at an important time for me in my life. It always inspired and stuck with me. I haven't been following so strictly any kinds of musical genres or bands – if anything I really don't listen to enough music. I love to listen to stories. Whether on YouTube or podcasts; I like to listen to people telling the story of their life. I especially like when people tell me about their childhood. I find this very fascinating, as even the simplest person who never left their hometown has a story to tell. I also went back to reading a lot of fairy tales, listening to folktales on podcasts and reading about fairy tale origins. I used to carry around fairytale books when I was a kid – looking for the next story to recreate. I find myself doing that again as an adult.
Because of COVID it has been a very difficult time for underground music and musicians. Live shows are a vital part of the scene, without them artists struggle to survive. How do you live your performances? How important is performing live for you?
Performing live for me was never as important as the production side of making music. I know there is always an emphasis on performing live and every grant application and new business partnership is always concerned about how many concerts and tours you plan to embark on. To Be honest, if I could perform one concert a year – to build something very special around that performance; I would be fine with it. The production side has always been my first love: writing and producing songs, making music videos and making films. I've been wanting to make a movie for quite some time but it's always been pushed to the back because of trying to stay on top of the song productions/music videos/managing my own label/music admin stuff/life. Once I have all these songs out with their videos, I think I will focus more on this film idea that's been wanting my attention for too long.
We are facing struggles and horrors some of us, probably naively, thought were confined in the past. A global pandemic, wars and genocides both new and old, the worsening of climate crisis. People try to go along with their daily life, but it's becoming harder and harder not to despair. Can music offer a universal language that helps us someway in all of this?
Music during a time of hardship is like finding something beautiful against a bleak backdrop. It's a tiny flower sprouting out from a crack of cement in a depressing place; reaching towards you and waving in the gentle wind, when your mind and soul feels empty, beaten and lost. It brings a smile to your face and takes you, even momentarily, out of your pain and reminds you that there is always beauty in this sometimes ugly and cruel world. I know that sounds pretentious against the weight of huge tragedies like wars and genocides but music is a powerful and magical thing. Music may not be tangible, it may not bring us shelter, food nor stop wars, but it brings us a light (if even just temporary) when all we see is darkness.
Thank you so much for your time. Anything you would like to add for our readers?
If you haven't seen my video releases, I have released a music video, lyric video and "making of the music video" video. A big thank you to all my supporters and all the positive feedback I have received on the single and the videos. I have my next single "You" coming out on July 6th, 2022. Last but not least, thank you so much for interviewing me!