Published by Alessandro Violante on May 8, 2023
This year, BITE Records celebrates its fifth anniversary and, to do so in the best possible way, it has released a new triple celebrative LP entitled Shedding Skin. Besides this, the label has released the first Phase Fatale release in five years by his label and many other releases. Others will be published in the next months. Today we talk with Phase Fatale about this anniversary and many more.
Q: Hi! It's a great pleasure for me to talk with you on our website. Last year, I've listened you playing live in Bologna with your projects Phase Fatale and Vague Mechanique, together with Terence Fixmer. Especially during these last years, since I go more often to Berlin, I've followed with huge interest your releases and BITE Records. I've supported the label by buying a lot of BITE records and before writing these questions, I've listened to the whole catalogue. Actually, I consider it my favourite label.
H: Wow, thank you very much!
Q: We could talk about a wide range of topics as you're a very prolific artist and as I like all your releases, but first of all I would like to concentrate on the fifth anniversary of the label. To celebrate this important anniversary, this year, until now, you have released two vinyls, and you're going to release a triple LP and a remix vinyl. Among these releases, the triple LP Shedding Skin is surely the most emblematic of the goal you've reached. In this release, we find songs by artists released on your label plus other very interesting artists. We have interviewed some of them, and we surely would like to interview the others. What could you tell us about this release?
H: This release actually started as a shorter compilation to showcase newer artists that I wanted to introduce more. Then I realized it's actually the 5 year anniversary of the label and also brought on the rest of the roster to create this milestone release. I wanted to showcase the wide range of styles on the label from synthwave and post-punk to Berghain style club techno and minimalist industrial.
Q: What could you tell us about the parties organized to celebrate this important anniversary?
H: It's important to tour with the label and create a physical element and space for the music, to give place and atmosphere. People can experience the artists' sounds through proper huge soundsystems and lose themselves while connecting with others, bringing everyone together. I'm happy to have showcases everywhere from New York to Tbilisi to Seoul.
Q: Equally important in the celebration of the anniversary is the release of Nailed To The Net, your first Phase Fatale release in five years with your own label. What could you tell us about this work?
H: It's a release that further pushes my sound towards the dancefloor and upping the production level, taking influence from my collaborations borrowing more from breakbeats, post-punk, and industrial techno. I always want to keep this balance between club effectiveness and romanticism.
Q: What could you tell us about the OTHR new release and the remix release of Exister by The Soft Moon? Talking about the last one, how did the idea of releasing a remix release come out?
H: I listened to OTHR's EP demos in our studio in Tbilisi and was immediately captured by the singular and strong sound design and groove of the tracks. Also both as KHIDI residents, we've played and worked together for many years.
OTHR, Unhuman, and I were playing in Warsaw last year when The Soft Moon came to the club as they played a concert earlier that evening. We talked again about doing a remix EP for their new album and now it's coming soon.
Q: I think that, over the years, BITE has become one of the most important labels in the so-called underground techno scene, and I like a lot how, listening to its catalogue, a clear sonic evolution could be perceived. You've been able to understand the changes happening in our music and to build a label which, while following a clear direction, hasn't ever repeated itself, knowing that the worst thing a label could do is to get stuck on a single style. Sometimes, repetition is considered a trademark. That's not my cup of tea. What do you think about it?
H: All the artists on the label have a signature sound but at the same time evolve with their productions to stay fresh. I'm also not a fan of repetition and using the same sounds over and over again. On the other hand, some people jump genres to whatever is trendy and en vogue at the moment which has zero credibility. So it's really about keeping a balance of staying true to yourself but also relevant and hopefully timeless.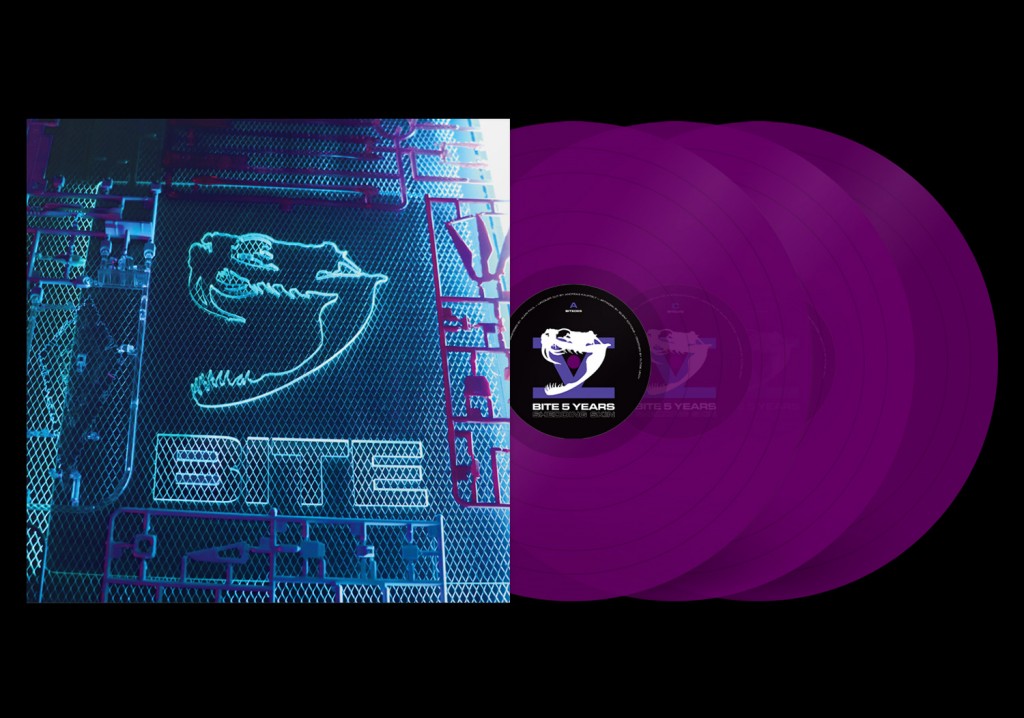 Q: Besides music itself, I must tell you I've always liked the graphic style of BITE artworks, which has evolved through years. What said in the previous question could be valid for this aspect of the label too. You haven't been afraid of changing a bit the graphic style of the label, although it could have been a risk, and I appreciate a lot this thing. We could call it change or evolution. Those who, like our webzine, talk about the music we love, wouldn't ever listen to the same album. What could you tell us about the graphic style of the label and its artworks? Personally, one thing I've liked a lot in releases such as Invasion by Terence Fixmer is the use of a picture put on the right side of the cover. You're doing it in a similar way in the new releases, putting them on the left side of the cover. I'm very curious about what has inspired you to do this.
H: A lot of artwork associated with this kind of music contains dark, obscure imagery, mostly in black and white. We wanted to change this perception with more colorful, pop-like aesthetic artwork. Because the music itself actually is supposed to be bright, inviting, and even uplifting so then the artwork should also reflect that. I took a lot of inspiration from classic post-punk labels like Factory and 4AD where the artwork is a very important aspect of the music itself. Also early techno/house labels like Network and Warp have a big influence. The sticker on the left side comes from Japanese obi strips.
Q: How did New York City and Berlin influence you in the making of your label? How much such different contexts have had an influence on you?
H: While growing up in New York, the label Wierd Records had an influence on me and was the first time for me to see more how a label works. Then in Berlin, labels like Jealous God and Ostgut Ton gave me more insight as I released with them and saw some behind the scenes processes.
Q: Last year, we put Your Last Everything by Soft Crash and Burning The Rural District on our yearly top 5 charts. What could you tell us about these releases?
H: My album was recorded when I lived in Tbilisi from 2020-2021 and about my time there and what I observed and experienced. It's really about growing up gay in a closed environment and reflected in the artwork by  queer noise artist Richard Ramirez. The Soft Crash debut album was made back in Berlin and further deconstructs this italo body music sound which has evolved to include different aspects of idm, electro, and electronica for example.
Q: What could you tell us about your project Vague Mechanique in which you collaborate with Terence Fixmer? Are you working on a release?
H: It's a live project with our only recorded song so far 'Cigarette Glow' for Ostgut Ton's anniversary compilation which is how the project began. Then we did our first live for the Arte show. Perhaps there will be more recorded material.
Q: Should we expect more celebrative BITE releases besides those covered in this interview?
H: Yes we still have quite a few releases to come this year! Stay tuned.
Thanks for the time you've dedicated to us. If you want, greet our readers and invite them to buy and preorder the new BITE releases.
H: Thanks for having me, you can always visit our Bandcamp. Cheers.