Published by Davide Pappalardo on January 8, 2020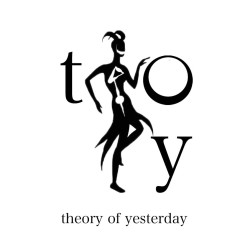 Today we present an interview with a new label pushing forward the synthesis of techno, industrial, and experimental music. We are talking about Theory Of Yesterday home of three cassettes by Bad Faith Actor, Phin, Fairground of Tears. We had a cheat with the boss Hannie Phin about the music, vision, scope of the label and what the future holds for it. At the end of the interview you'll find three mini reviews about their output.
Welcome on Flux! Theory Of Yesterday is a very promising new reality in the world of independent music. Would you like to present it to our readers?
Thank you, it is nice to hear that. TOY is just another independent music label currently focused on cassette and digital releases, as well as text in the form of essays/articles. It is a very personal and introverted project realised by artists involved. It aims to be eclectic. It is young and exploring.
As of now you have released three cassettes: Bad Faith Actor's The Value Of X,'s The Sufficiency of Their Immortality Frustrates All Earthly Glory, and Fairground of Tears' Pain Is God. How did you get in contact with them? What can you tell us about these releases?
Fairground of Tears is a London-based DJ, producer and the promoter of the EXILED parties, plus a good friend of mine. When I decided to set up TOY, Fairground of Tears was the first name in my mind as I had already been playing his unreleased music and thought others should also do. Phin is my solo project, so that was straight forward. The most recent one is by Bad Faith Actor, a new project by the 'bad half' of Alpha & Necromante. He contacted me and sent his music, and I am glad that he did. I can say that all three releases have at least one thing in common, that they have a dark and aggressive tone in their own way. Techno, ebm, experimental, industrial, noise are what come to mind.
I have chosen cassette vs solely digital because firstly I love cassettes and have a decent collection myself, secondly it is physical and open for visual creativity. I have used the cassettes more as artwork containers for the music; all of them have on-body printing of images with some sort of meaning. First one is the X-ray image of a good friend's broken leg after she had a serious accident and couldn't dance for a while; the fact that the name of the EP is 'Pain is God' somehow worked really well with the image. Second one is a vague image of my partner that I took while he was doing his collection's photoshoot and the last one is also an image I took in Milan at this incredible exhibiton called Broken Nature.
 I would like to know about the label's background. What music inspired you? Some favorite acts you would like to cite?
Listing all sources of inspiration would keep us awake for long hours. The music itself is great but experiencing it with others is the main drive for me. I like many kinds of music, of mostly the darker variety; from rock, metal, classical, experimental, noise, industrial music, darkwave, ebm, acid and industrial techno… The first source of inspiration was the first techno party I went to when I was visiting Berlin whilst I was still underage, it was a daytime after party and the only party I managed to get in then. I wish I could know now what it was but the music was very fast-paced techno, everyone was incredibly happy and not having experienced anything like that before, coming from a small coastal city in Turkey, that day has just stayed with me. Fast forward a few years, I had started university in the capital and that's how it all began. I started hanging out at a record & dj equipment shop and also worked for a couple of clubs, bought my first turntables after a while, started learning to mix with the only 10 UK and acid techno records I had for about a year (it was very expensive to buy and difficult to find EU/US records in Turkey then, talking about early 2000s). Coming to London was the best decision, and things have made only more sense since. I continued with music studies here and learned even more out there going to live gigs and parties. My first gigs on this side of the world were warehouse and squat parties, then club nights in UK and few in Europe. Spontaneous warehouse parties are always my favourite. The factories and the rhtyhm of machinery, that resonates with me.
In terms of favourite acts, the list would also be a long one; a contemporary influence I could name is Ancient Methods, with whom I had the chance to perform on the same KAOS event at Electrowerkz in 2018. AM is an act I look up to and also an act that showed me (and many others, I believe), that it is not only okay but also such a great idea to experiment with and combine genres. Adam X is also always very interesting. Also Ontal, Tomohiko Sagae… and many more really! Some that I always go back to are Muslimgauze, Coil, Zoviet France, Bauhaus, Die Form, Cabaret Voltaire, JK Flesh, Nine Inch Nails, Pan Sonic, Orphx, Black Rain and recently Lingua Ignota… I also had the pleasure of performing at the same event with Esplendor Geometrico, which will always be very special to remember.
Out of the many labels I follow, few are Hands, Aufnahme Wiedergabe, Instruments of Discipline, Blackest Ever Black, as well as older labels that have released UK techno and Acid Techno like Stay Up Forever. I also love what Liber Null does. I have tried to mention the ones that are a bit more relevant but in fact there are so many more artists and labels that might have nothing to do with the sound of TOY but are as much influential..
As Phin, I play a mix of contemporary dark and industrial techno, sometimes Ebm and other times 90s Acid, UK and Belgium techno and this is exactly how I want to see TOY develop as a label; an eclectic being not limited one genre or subgenre, but with a recognisable tone..
I would have never thought I would have a music label 10-15 years ago, but now things are much easier with today's technology and access to endless source of inspiration that make it possible to DIY and I am just using that to my advantage to release my own and other people's music.
 The label comes from London, one of the capitals of techno and a place not averse to industrial, of course. Can you describe the scene there?
Incredibly vibrant and open, at least in the last few years, especially in North and East London. The parties I frequent are KAOS, HTBX, Exiled, Blanc, Unmasked in no particular order, alongside many more recent ones. I feel that KAOS has set the tone for many parties in London and actually created the 'core scene', and HTBX has been a long love affair for me personally. Scene has grown, become more eclectic and diverse despite many closures due to gentrification. Darker techno with industrial sounds have been embraced by more people. Parties have become more frequent and extended their hours. Few years ago, there would be one or two parties to go to in a month, now almost every weekend, Friday to Sunday, you don't need to have a break, if you don't want to. Something exciting was born out of the negativity created by closures; be them illegal or semi-illegal parties, or even legal ones; a DIY approach has blossomed. Of course I am talking about my experience since I came here in 2008, music that appeals to my taste and the community I am in, which is very open, mostly queer and doesn"t want to stop dancing (literally, ever). Yet, this is London, there are all sorts, still many old and new clubs for every taste and DIY party is not a new concept, especially for the generations that were lucky to be around in the 90s before restrictions were put in place. I just feel that DIY approach has been adopted by more in the last few years, hence the increase in the number of events within the community I've been part of.
 What are your plans for the future? Do you have alraedy new releases in store?
I am happy that there has been interest, and I keep receiving music from artists. 2020 should see more music, collaborations and text releases from TOY. The only plan is to keep enjoying what I am doing and hope that others do too.
Thank you for your time. Feel free to add anything for our readers!
Links:
http://www.theoryofyesterday.com/
https://soundcloud.com/theoryofyesterday
https://www.facebook.com/theoryofyesterday
https://www.instagram.com/theoryofyesterday
THEORY OF YESTERDAY: THREE SHORT REVIEWS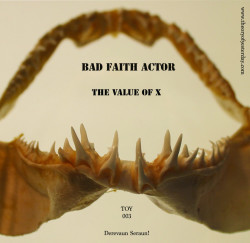 Bad Faith Actor – The value of x
Bad Faith Actor is the project of Colombian producer Andres Felipe Bonilla, already active as Alpha & Necromante, Televised Audience, and owner of Asylum 1001. Under this alias he produces rhythmic tracks full of atmospheres and well crafted passages. The Value Of X is the name of his debute cassette hosting 6 new tracks; if Sneaky little truths plays with slow pattern and obsessive motifs, building a growing crescendo by laying different elements time after time, the Title track instead indulges in bombastic distortions with an almost acid urban feeling. Eat your fingers, do the talking is a personal take on almost ritualistic drone passages and creepy ambiances. Once again the FX and production departement have a huge role in his style made of subtle tweaks. A strong debut with a lot of character and attention to the details.
Rating: 7,5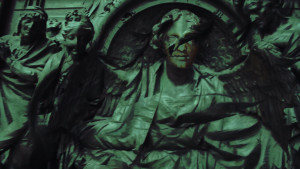 Phin – The sufficiency of their immortality frustrates all earthly glory
The label boss is an artist herself, and here she offers her take on dark techno with EBM basslines and steady rhythmic attacks. The Sufficiency Of Their Immortality Frustrates All Earthly Glory graces us with 4 tracks informed by a strong sense of rhythm and songwriting, as well as the right amount of ambiances. Oversoul welcomes us with a groovy track made of sawing basslines and otherworldly atmospheres, soon delibering a full-front ride with hypnotizing takes. The balm of pity plays with rhythmic loops and layers of background effects, before it adds stomping kicks and fat snare sounds. The percussive feeling conquers the listener with ease. A valediction offers cinematic soundscapes and a slow building in an ambient-tinged take on the genre which closes the EP with a fitting mood full of mistery. A cassette showcasing well composed moments aimed not only to the club
Rating: 7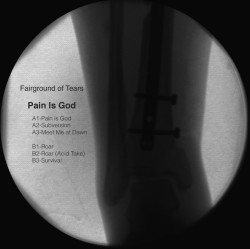 Fairground of Tears – Pain is god
London-based musician Fairground of Tears was featured on a podcast by Zanias and on Medieval Heresies' V.A Nothing to Declare, among other releases even as a remixer. Now he debuts his first cassette with Pain is god – a collection of 6 tracks dwelling in robust techno/EBM sounds with a futuristic feeling and galvanizing dark motifs. The Title track is a perfect example: cutting passages and inquisitive rhythmic sessions evoke a dungeon-like world full of grim atmospheres and lively tension. Meet me at dawn uses destructive reverbs in order to conjure a storming but slow soundscape where eerie melodies picture a diaphanous dimension with dark vibes. The episode never explode, prefering a game of tension with the listener. Survival fuses dark ambient and techno industrial in a grim affair full of pulsating movements and dramatic passages. The track slowly grows into a perfectly timed mantra for darkened cyborgs. A debut promising great things in the near future.
Rating: 8