Published by Davide Pappalardo on March 12, 2020
Fairground Of Tears is a London based techno industrial project characterized by dark atmospheres and strong rhythmic mantras. Here we interview them about their music, history, influences.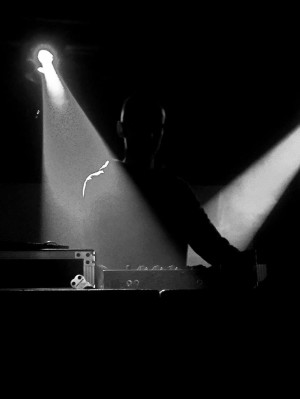 Welcome on Flux and thank you for this interview! Fairground Of Tears is one of the most exciting new comers in the techno-industrial scene. How was it born? What's the story behind your project?
Hi, thanks for having me and for the kind words. FoT was born around end of summer of 2017. I was feeling bit at the crossroads and burned out with my previous project Ne Plus Ultra, at which I was making electronica, scores, experimental and more kind of down tempo stuff, so I needed a change, a new challenge, inspiration and wanted to come back to the darker, harder and harsher sounds. It was also quite weird period in my life where on one hand my social and party life was very good, there were plenty of great events happening within London's techno scene so it was all like a big Fairground where I could take different ride, draw inspiration and listen to something fresh every weekend. On the other hand personally, for various reasons, I was in the dark place so deep inside there were plenty of Tears therefore I decided to draw the line on all previous projects, start fresh, build on and fuse both spectrums of the energies flowing in my life into Fairground of Tears.
Your debut cassette on Theory Of Yesterday, Pain is God, is a very strong output with various motifs linked to a very dark sound. I liked the fact there are more atmospheric and slower tracks and not just a collection of club-stompers. Would you like to talk with us about the production and writing process behind it?
Yes I like the way how it all was sequenced and put together too. I think in this form it is much more interesting to the listener and everyone can find a track they like or can relate to. Also purely from production aspect it is most importantly interesting to me otherwise it would be just too loopy and I would quickly feel bored if I had to box myself into a single genre or aesthetics. As I mentioned in above question FoT is a fusion kind of a project, I would also like it to be a bit of a bridge between my past sound yet want to navigate around darker side blending bit of a rave music, industrial, techno and ebm sounds therefore, as with this ep, you can expect a nostalgic cross genre journey in all future productions. As for production process or stuff I used for this ep then there are 3 center pieces of equipment, which I use in almost every track, Korg MS20 Mini, Roland TB3 and NI Maschine for drums. To top it up I use various drone generating VSTs to give it all a interesting and tense background. Writing process itself may be considered as a bit of a cliché but "Pain Is Good" EP is simply collection of feelings captured at various stages of 2017. Generally whenever I start a session I just jam and let the sound flow, I try to catch and translate to music my current feelings or mood yet some of the tracks are a musical narration to what was happening around or in my life at that moment in time.
 You collaborated with Ireen Amnes on the track Walking Down The Dark Hall for the V.A Nothing To Declare (Medieval Heresies), a very eerie and almost ritualistic episode with a slow crescendo. How was this collaboration born?
We know each other and are good friends with Ireen for good few years now. When Luigi asked me for a track for Medieval Heresies VA he mentioned he is open for collaborations. Since I've made a remix for Ireen few months back and wwe were in touch and chat from time to time the idea of collaboration just dropped into conversation. We have exchanged ideas then stems between us in Berlin and London and within 2 days we had a finished track. I'm really happy that we did it and how the track turned out to be and maybe in future we'll do another one as it felt great working together so many thanks to Ireen and Luigi for making it happen. Be sure to check our Medieval Heresies VA as it is a great collection of tracks by amazing artists.
You are based in London, one of the most important cities in the world and one on the capitals of techno music. Have you been inspired by the scene of the city? Are there any other artists you would like to recommend?
London indeed is one of the most inspiring cities when it comes to any form of art and each weekend there's so much to do or see so sources of inspiration are almost endless. When it comes to techno then of course, it is truly inspiring place too. We are blessed to have parties with decades or years of legacy that are still thriving like Kaos, Slimelight and Blanc and bit younger ones which are also integral part of the scene like Exiled which I curate, Noise Noise Orchestra where I'm resident at and Volt which has done amazing bookings lately. Sunday's sounds are shaped by HTBX, Unfold, Corner and Jaded and all Saturday and Sunday events have their unique vibe which is also great as you can get surprised and inspired every time you go out. There are iconic clubs too and each weekend you can listen to world class acts yet when it comes to artist then our local scene is the place where I can draw real inspiration form as we have people who have been on the scene for years as well as fresh emerging talents and level and taste of those people is simply excellent therefore there is so much to learn and discover from them. To name the a few I can certainly recommend to listen to music from Phin, Polanski, Tonia Nee aka Red Ophis, Faux Naif, Lupus, Choronzon, Twang, Dahc Dermur VIII, URSULA, Pre Silent, Andromeda and Vercetti Technicolor (and his other aliases).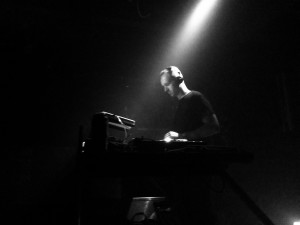 What does inspire you? What are the acts, labels, even movies, books, etc. Which inspired you?
I listen to lots of music and genres and always trying to learn something and think how is it layered and made. So my taste and sound tolerance is very broad. I'm not a purist sticking only to one sub group or genre, so everything from The Doors, Hendrix, Pink Floyd thru Jarre and Kraftwerk to more modern sounds and bands like Radiohead, Massive Attack or Atoms for Peace, I simply like listening all genres music. When it comes electronic music and record labels back in the day I really enjoyed Border Commuinty, R&S, Raster-Norton and some stuff from K7 and now a days definitely Instruments of Discipline, Fleisch, A+W, Hands and Khemia are my favourite and release excellent stuff plus I really like stuff from RND, Veyl, Detriti and Infidel Bodies too. So all above play its little role as source of inspiration however one of music sources I'm really hooked on are film scores as these are very dimensional and emotional and this is what I really like when emotions are captured in music and you can sense that little sparkle within it. I quite often find myself loosing the plot of the movie because I am so consumed by the music in the background so of course legendary Mansell, Zimmer, Vangelis or Moroder would for sure be one of the biggest inspirations for me too.
Live gigs are always an important part of doing techno music, be it commercial, underground, or whatever. What can you tell us about it? How do you live it?
It is for sure cherry on the top and performing is simply what I love doing most and where I thrive yet we can't forget about all the lead up to performances themselves, all the time spent at studio producing, rehearsing and searching for tracks for sets. The whole process can be very time consuming and mentally draining but it is also a very rewarding. Performance wise it is interesting how you can push the boundaries and how different reaction is to the same tracks at various venue settings. My favourite places however are always going to be illegal or semi legal warehouse raves or industrial mid size underground trashy venues with dark dense atmosphere where you can barely see anything, where you can just loose yourself in sound and hear how the crowd reacts to music, it is really amazing feeling.
 Thank you again for the interview. Anything you would like to add for our readers?
Thanks so much for having me and I'd like to thank to all friends for continuous support and to all labels I worked with so far for believing in me and my music, big hugs to all. There are some exciting news slowly coming up on the horizon so check my social pages from time to time to get all the latest updates.