Published by Davide Pappalardo on May 11, 2016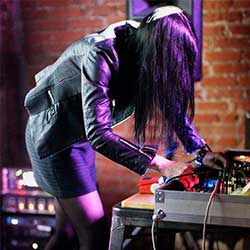 Manunkind are a Russian duo from Moscow, formed in 2015 by Eugene Gin and Dee Grinski, dedicated to abrasive death industrial sounds, whose 4 tracks cassette debut has been reviewed by us here. Now they give us an interview where we find about their cultural and musical influences.
1) First of all, we want to say thank you for this interview! Let's talk about your project: how was it born, and what is it about?
The project is a part of Own Cause art union. There are other projects we are involved in (Gerten, Dee Grinski, Main Unit). Also we've got plans on Own Cause like designing clothes, some kind of pictorial art and etc. Manunkind has been found because we had too many ideas which didn't fit other projects. We try to research extreme points of physical and emotional impact in the sound. When it comes to our concept, it's all about the triumph of technology and post-modern world. But also it's a release from these things through getting back to our roots of tradition. Especially to the sacred world.
2) Listening to your self-titled Ep it's clear that you like to do punishing music with power electronics, death industrial and some dark ambient elements. Do you have any mean influence in your sound?
Yes, we are influenced by various genres of avant-garde music. There are: The Sperm, Nihilist Spasm Band, Cromagnon, Metabolist, Whitehouse, Ramleh. The list is too long.
3) Let's talk about your image. What do you want to express and portray? We can find references to Georges Bataille's magazine Acéphale and both the star and the ancient city of Canopus (Κάνωβος), and that's very intriguing.
Eugene: Sure, we're interested in Georges Bataille's concepts. But it's not only about magazine. Acephale in our song of the same name is Bataille's big idea which is related to Nietzsche's vision.
Dee: Κάνωβος is not the city in our song. We mean sacred Egyptian jars that were used by the Egyptian priests to preserve the organs of their dead owner. But the matter is that there were always only 4 jars. This is a mystery what the 5th one is supposed to be for.
4) Does your life in Russia affect your music on any level?
Eugene: I think Russia gives us such a large space for experiments in our art. Russia's metaphysics and heroes of the past like avant-garde painters, artists, writers (for example Dostoevskij) are powerful inspiring sources. They all had the Russian arcane soul which is interesting object of researching. But today there're nobody who can inspire us.
Dee: The environment always affects all of us, but I don't think that we would sound too differently if we lived in another country. As for me, Manunkind is something that goes out of my inner core, but Eugene is always looking for inspiration to write his lyrics, obviously, he gets it from our culture.
5) How do you compose your music? What kind of gear and tools do you use?
Eugene: We use a lot of analogue synths.
Dee: We use anything that is able to make some sound. And we both are big fans of DIY stuff. It sounds unique.
6) What about your taste in music? What do you listen to?
Eugene: We can listen to any kind of music if there's any sense in it.
Dee: We have no limits for sure. That was the reason to found Own Cause, because it would be weird as hell if we tried to manifest our music tastes in only one project.
7) What do you think about the current state of power electronics / death industrial scene?
We're not interested in it really.
8) Do you have any plans for the future? A full length maybe?
Yeah, the full length for sure. As soon as we find a label.
9) Thank you for time. Anything you want to say to our readers?
Thank you too! STAY AUTHENTICALLY!