Published by Melissa Lynne Strain on February 2, 2020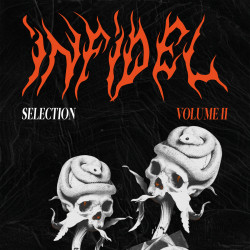 Celebrating the two year anniversary of Infidel Bodies, INFIDEL SELECTION volume II showcases the Italian label's diverse sound, consisting of twelve tracks from different artists that support and are adored by the label. Fusing together furious, fast-paced techno with some more electro and industrial leaning tracks, the release is Infidel Bodies' most dancefloor friendly release to date, while still encompassing an experimental and forward thinking approach as always.
Shrouds starts the LP off with Cursed Are The Lambs of God, a terror provoking track with EBM influenced basslines, comprising demonic sounding samples and menacing screams. Next is a triple dose of industrial techno in its purest form from some of the genres most prolific names: Codex Empire, NX1 and Max Durante, followed by The Hard Law of Sacrifice, from the rising artist and co-owner of the label: 11xxx27.
Things then take a more experimental turn with Gameover by Datasmok – dark, glitchy electro that sounds like being trapped inside an 80s computer game, and one of the highlights of the release: Hosts of Sorrow by Sharplines – a deep and cinematic journey that slowly intensifies over the course of nine minutes with layered textures and mesmeric drum beats.
Thomas P. Heckmann's signature sound can be heard in Raw Head, which is proceeded by Seekers of Justice by Rendered, a merciless yet euphoric sounding warehouse techno track made up of pounding percussive elements. The 90s rave revival is in full force at the moment and Crystal Geometry shows how it is done with style and class with I am Death, no chees, just pure, unadulterated energy.
MDD delivers some angsty, leftfield techno with Subsist, and last but definitely not least is one of the best tracks of the release: Damals by Hypnoskull. In German, Damals means 'back then', and the track has a definite nostalgic feeling to it with the dark Deutsch lyrics on top of the hypnotic and ritualistic sounding drum patterns creating a sense of esotericism.
Label: Infidel Bodies
Rating: 9/10