Published by Alessandro Violante on March 7, 2022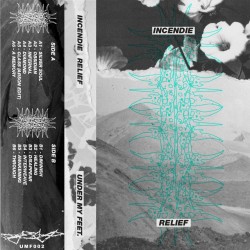 The name of the multimedia artist Arthur Bdt is linked, among the other projects, to that of Area Z, a DIY collective and Berlin-based label, but also to that of ATT Corp (together with Templer), Arson, Burnt Offerings, Human Spine and Axes On Fire. Probably, his most known is that of Area Z, which has released music by artists such as Blind Delon, Unconscious, Crystal Geometry, The Undertaker's Tapes, Chrome Corpse besides several compilations, and which is actually considered one of the most known labels of these years.
His most recent project is Incendie, with which he's released a tape entitled Relief with the multifaceted project Under My Feet. This tape, released on 29th October, includes twelve songs pervaded by noisy drones, manipulated guitar sounds, distorted vocals, syncopated drum patterns, IDM influences and a melanchonic melodic touch. It's a complex and multilayered release not following the trend of releasing EPs as well as refusing easy cataloguing, especially thanks to its hybrid nature, being its most important trademark.
In the words of the label, that of Relief is a sort of concept about facing fears and uneasy emotions, influenced by a large spectrum of styles, having a strong punk attitude. This attitude can be found in all its songs, regardless of their style, linked to the concept of "electronic punk" especially developed during the nineties, and, more recently, by labels such as Ant-Zen, which has developed it in a darker direction. To name few, some examples of this concept can be clearly found in songs such as Obsidian, Infernal and A Memory. Especially this last one evokes a bit the sound of Hymen Records, sublabel of Ant-Zen, and once again reminds us how those sounds have, consciously or not, influenced the new waves or artists making uncommon music today. Also Incendie is one of those.
Relief isn't only a pretty uncommon record in the current music scenario but also a release showing how Under My Feet., besides already being known for its events, both refuses easy underground music business rules and aims at becoming one of the long-term most interesting and "experimental" projects of these years, and this attitude can only be appreciated.
Label: Under My Feet.
Rating: 8