Published by Alessandro Violante on May 14, 2016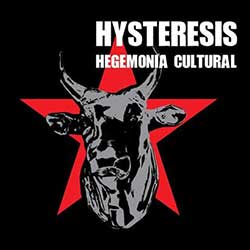 Let's get away for awhile from the cold industrial landscapes and sounds that have always characterized labels like Hands Productions, and let us sink in the last, peculiar, work from Hysteresis titled Hegemonia cultural, behind which we have the Belgian musician Wim Ceunen: the fifth album for the iconic act shows us a reinvigorated formula where we find the influence, especially in the first tracks, of oriental and Hispanic culture.
Hysteresis music could be defined as a peculiar mix of rhythms and music genres that are different between each others, but at the same time linked in an intelligent, never banal, enthralling way, all qualities that give to Hegemonia cultural an identity difficult to label. A work that use musical melting pot as a flagship, and where a mix between old school rhythmic noise, breakbeat, techno in 4 / 4, drumstep, drum 'n bass, orchestral music has free space, all enhanced by extraordinary samples. We could think that the Belgian musician has produced a strange music mix, but that's not the case: everything sounds enthralling and crystal clear, (thanks to the sublime production too), and first of all this is a product that questions post-modern society (here well described by the coexistence of different cultural and music elements) and cultural hegemony (what sociologists call Hegemonic or Dominant culture).
Hegemonia cultural alternates very different kind of songs, but with a common element: the need to surprise and never repeat itself, choosing new paths establishing, we could say, a connection with 90's crossover, and it's not by chance that we find a strong,  destructured and sampled of course, rock influence. We have to think about the eclectic and unfathomable Gramsci in the Caribbean where a strong rock riff goes hand to hand with a fervent tempo until it explodes in rum 'n bass rhythms; everything underlined by a typical oriental vocal style.
A certain kind of legacy, linked to the music of the past endeavors, is shown in tracks like L'Ouvrier Méprisé Et Suspecté and Ordine Nuovo, even if their rhythms recall enthralling dances around the fire in the first case and rave party frenetic moments in the second one, instead of cold serial industrial crescendos. It's not difficult to think about big beat influence, especially with the second track, an influence found in the will to create rhythms that are more than repetitive structures, well rounded instead, totally engaging and far away from the cliché of the genre. The same will to explore different landscapes can be found in Der Fabrikrat with its savant drumstep, where we can find at the same time a dominant and interesting melodic taste, and even in the genial crossbreed interpretation pf the famous Dies Irae, which ad points to a work full of ideas.
That's not the end, because we even have odd times and piano sequences in the atypical  Raven (with a strong big beat influence, especially on the synths side), obsessive and straight techno in A Slut Utopia and Operation Northwoods, tribalism in the adventurous Disparse! and a closing remix of the opener track by compatriot Ah Cama-Sotz.
Hysteresis has produced a very varied album here, difficult to label, but full of ideas. Hegemonia cultural is a phase or a new start for the Belgian musician? By the results of this test, we shall say: Whatever happens will be a success.
Label: Hands Productions
Voto: 8, 5