Published by Melissa Lynne Strain on August 20, 2019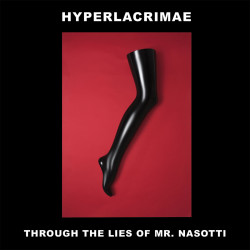 Incepted in the murky outskirts of Napoli, Hyperlacrimae is the industrial project of Erminio Granata & Carmine Laurenza. The duos dark and experimental sound is put on prime display in Through the lies of Mr. Nasotti, their debut LP, released on the Italian cassette imprint Infidel Bodies, which also features remixes from the likes of Autumns and Hypnoskull. Through the lies of Mr. Nasotti tells the twisted tale of Mr. Nasotti, describing his world in all its aspects: "weird habits, dirty perversions, nostalgic thoughts and a strong anti-crowd attitude", which can all be felt through each track.
EBM, mutant machine music and industrial influences all come together in this twelve track release, creating the perfect storm. The twisted tale begins with the first track: Oggi e non Domani Noi Saremo Altrove, which will instantly make you feel at unease, setting the scene perfectly for what is to come next. Jenny's Useless Thoughts and Francesca's Weird Habits are both body music-inspired dance floor friendly yet brutal bangers, followed by Nasotti's White Charme, a slow and sludgy track with groveling basslines. Thinking of Cassandra, is an introspective and melancholic piece, while possibly the best track of the release Strange Footsteps in The Night feels like you are listening to a bad dream play out inside your head, perfectly encompassing the sick and sordid story of Mr. Nasotti with distressing vocal samples, disorientating bass lines and merciless drum patterns.
Through the lies of Mr. Nasotti also features four remixes from some very exciting names – industrial heavyweight Hypnoskull, Infidel Bodies own Viktor Kalima, Simon Crab of the legendary Bourbonese Qualk, and Autumns, with each artist adding their own unique sound to each track. Through the lies of Mr. Nasotti is available to buy on Bandcamp now as a limited edition cassette.
Label: Infidel Bodies
Rating: 8/10