Published by Countermeasures Electronics on June 22, 2019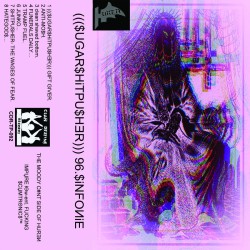 David Foster is the man behind the project of Huren, a long standing punk-industrial electronics reference, delivering influential cuts over the last three decades. David's consistent eclecticism articulates also through some more side projects, mentioning, among others, the abrasive "Ontario Hospital", O/H, collaboration with Rich Oddie from Orphx, or the rounder frequencies of Teste, in collaboration with Goner.
The output gravitates around a strong coherence of noise, power electronics, and harsh industrial techno, often dived into caustic ambiences, assuming all the conceivable shapes, as well as the unconceivable ones.
The variety, hinged to a well-defined sound matrix and animated by a well-defined intention, has been leading Huren to release multiple works on Zhark Recordings since 2002, defining his sound imprint over Kareem's platform.
After a past in which the project had some pauses in terms of production, now the activity seems to be more prolific than ever, releasing records and tapes on labels such as Noiztank, Jezgro, Clan Destine Records and, obviously, the aforementioned Zhark Recordings, with which he started his renaissance, releasing in 2015 the -MRTVI- EP which, in Croatian language, means "the dead".
This time, he's back on what seems to be his other favourite label, Clan Destine Records, a "project" able to feed and develop Huren's remarkable punk attitude by design. With the ((($UGAR$HiTPU$HƎR))) 96.$iNFOИiE, preceded by the ☆$HiTPU$HƎR☆ Sinfonie and by CHANGE R00M VI0LATI0N$, released by the Glasgow-based label, the communication states only that this is the "the moody cunt side of Huren", leaving to the music the duty to efficiently represent David's alienated aesthetics; a work so direct that, to reach the goal, doesn't require any further translation into linguistic code.
The blunt development deconstructing beauty into a mutant-synthetic scenario kicks away any sort of pre-determination in terms of rules and cumbersome aesthetics, telling much about social distortion instead.
The nasty output of this work finds also its natural dimension in the sound treatment of the label project, which focuses away from the shiny industry-competitive sound and neglects the "loudness war"; a field choice allowing sound to come out genuinely sticking to the resourcefulness of the idea and purpose, a raw mission that could be affected perhaps if fitting certain music-industry sound standards instead. The listening is energetic and fresh, and it doesn't annoy even carrying a couple of dancefloor bangers too, compiling the LP without affecting the variety, due to their concise, essential-meaningful length.
Welcoming the listener with the ☆$UGAR$HiTPU$HƎR GIFTGIVER, just the first of the variety of twisted names assigned to Huren's compositions, the song opens up with a spoken teaser (probably assimilated from ones of Hannibal Lecter's movies that could be talking about Huren himself), introducing a moody downtempo gigantic beat,  vanishing into harsh obscure rhythmic noises, diving into a dark abyssal atmosphere, tormented by low-pitch floating voice.
ANTI-MO$H steps straight into a 4/4 cyber-technoid beat, a metallic disruption riding on distorted pressure plunged in a similar dark atmosphere animating the following grimy liquid rhythms of the phasing Clean Shaved Bottom. Funerals Daily hits again with an harder and solid 4/4 beast, haunted by screaming-furious vocals and mechanical percussions, shaping a subterranean mutant march straight to insanity.
Junko steps back again to wider soundscapes and alienating ambiences, following nervous metaphysical modulations on drunk-phasing percussions over 10 minutes, flangering the warping oblivion climax.
Trap Fuel gives a shock to the trip with a sharp biting noise-industrial beat attack, supporting David's sensational screaming vocals (you may recognise the same vocals from the recording found in the recent collaboration with Ancient Methods, on Candela Rising).
$HITPU$HER THE WAGES OF FEAR flies into an elegant and hypnotizing 3D cyber-tribal trembling ritualistic doom beat, before HATEGOD$ closes the journey quietly at first, with a cinematic-noise messy scenario, harmonized by drones and field recordings, finally reconstructing instrumentals recalling the ones in the intro.
A solid work, expressing Huren's most honest and consistent shape. His well-conscious role within the music industry shows off with delicious creativity, gaining also the "social approbation badge" that consumers need to value something.
A thug mindset carving a sound out of any compromise through a strongly marked and ever coherent identity, standing out from the amorphous mass of unanimated compositions feeding the momentary hype of the music market which masses need.
Label: Clan Destine Records
Rating 8 / 10