Published by Davide Pappalardo on December 24, 2016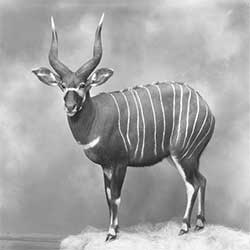 G.H is Gary Howell, a key figure in the breakbeat / jungle project Hate, where he collaborates with fellow Modern Love mates Andy Stott and Miles Whittaker, and one of the more elusive figure in the prestigious roster of the aforementioned English label. Following the rich experimental tradition of the label, he plays with chopped dub / techno sounds, lo-fi field recordings, creepy dark ambient textures, ethnic rhythms and atmospheres: a sound close to projects like Demdike Stare and Muslimgauze, but characterized by a sinister and darker personal vibe with a taste for post punk and industrial songwriting.
In 2011 he published his three-tracks debut Ground EP, a work which enforced his vision made of musical turmoils and subterranean, crawling movements, and now he returns with his first LP, called Housebound demigod, and published, of course, by Modern Love. Probably a more apt name couldn't be given to this work, characterized by a ghostly, disturbing atmosphere where throbbing baritones, ambient loops and techno / dub elements concur to almost tribal rhythms and atavistic mantras.
Screamin' demon pickups starts with an almost doom, monolithic and obsessive downtuned guitar riff, which is violated by sharp distortions and creepy ambient effects. Then, measured rhythms and distant vocals accompany acoustic strings, giving an organic field to the composition. Mickey cosmos picks up from there, going further in the rhythmic-industrial side of things with its compulsive samples, buried in a lo-fi clipped production, and Packhorse underlines a slow and mesmerizing loop with sparse beats and malevolent atmopsheres.
Angels and doormen is a creepy ritual made of breakbeat and grime-oriented sounds, where cut-off screams and peculiar rhythms find their place in the songwriting, while Yorkshire fog is a robotic experimental affair with chopped percussions, dissonant sounds and spoken word vocals. Bikini mixes hard beats, field recordings, slowed drum 'n' bass and acid atmospheres, Devils bit scabious touches musique concrete and old-school industrial with its distorted, scraping experiments, and the final titletrack immerses us in a long dark ambient suite where we are surprised by some submerged aggressive loops, crowned at the end by sinister organs and baritones.
To be experimental without being pedantic and boring is no easy task, but Howell does achieve something more: he gives us a compelling, dark, modern work, which enthralls and captures in its sonic world, characterized by a varied but coherent songwriting where his past experiences concur to a sound which is an unmistakeable example of the Modern Love style, but at the same time is personal and distinctive. A hidden gem and one of the albums of the year for sure.
Label. Modern Love
Rating: 9