Published by Davide Pappalardo on May 29, 2016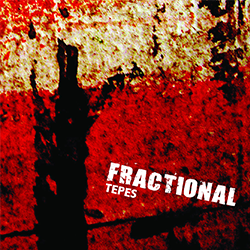 Fractional is the project of the Belgian artist simply known as Eugenie, which has given us in the past works filled with breakcore outbursts and evocative, melancholic soundscapes, under labels like Angstprod (Hliods), Brume Records (Come Mierda) and Tympanik Audio (Blood). Now it's the turn of Dirk Geiger's Raumklang Music with Tepes, a new astounding work, where dark sounds and enthralling rhythms find a common place between breakcore, IDM, ambient, dubstep, and much more.
Taking its name from the famous Count Dracula (Vlad Tepes), this is an album full of old vampires movie sound samples, which give to the sound here presented a unique cinematic quality, thanks to a rework of the main source as syncopated, fractalized rides. A strong episode where a taste for atmosphere and a love for sonic attacks are well balanced, enthralling the listener and guiding him during a mind-travel made music.
We start with Tess and its arpeggios, soon followed by evocative lines and sharp, piercing sounds, until a menacing movement explodes with moaning-like sounds. A dark, abrasive atmosphere is conjured by a songwriting that knows when to speed things up and when to stop. The title track gives us a dubstep Gothic movements where syncopated rhythms and stark chants are brilliantly placed, generating a lively sound, while Sionvi plays with synthwave and post-witch house elements, and it gives us an epic, majestic song that is a highlight of the album.
Vampyr is a rhythmic juggernaut full of beats and orchestral stings, which don't explode staying subdued in a malevolent motif, and Des goes in lo-fi, ambient and field-recording territories, showing us a more experimental side of the project. Lod is a frantic, strong dancefloor episode, full of bass sounds and compelling crescendos with a clear trance influence, and the final episode Field dismisses us with a ghostly, creepy number full of breaks and groovy sounds.
An audio experience that needs to be lived. Tepes is another episode of intelligent, alternative, and creative electronic music offered by Raumklang Music, a label with a very strong quality in its outputs. Here, different kinds of electronic and even "traditional" music are reworked, cut-up, assembled and reshaped as something new, and this is not an easy task; highly recommended.
Label: Raumklang Music
Rating: 8,5