Published by Alessandro Violante on July 6, 2016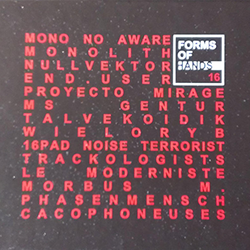 Fifteen years have already passed since the first edition of Forms of Hands was held, and in the meanwhile the Dortmund-based label Hands Productions evolved opening up to several paths, not necessarily linked to the well developed rhythmic noise formula of its early years, without, at the same time, losing its trademark. All of this while ephemereal trends knew short life in the history of electronic music, also in the so called underground music. An important anniversary, the fifteenth of this history, was written in Bönen's Förderturm, a well known industrial complex located near Dortmund, built during the '20s.
Fourteen artists, among them we have old cults as well as more recent projects: French project Cacophoneuses with its obsessive rhythms influenced by techno music, the refined Phasenmensch with their clean rhythms, veiled by a nostalgic ambient halo, Wieloryb's powerful rhythm 'n noise, and more or less classic acts, besides historic symbols of the label such as Mono No Aware and MS Gentur. Who expects a monolithic album will be astonished by the variety of styles here contained, which portray what HANDS has become: together with Ant-Zen and few other labels, an home for experimentation upon electronic music and its language, a safe port far from spotlights for listeners that know how to find, in their releases, that spirit of research always aimed in a neverending path to the evolution of electronic music.
Fourteen unreleased songs, except for a slightly different version of Suicide with plastic gun, Sixteen shots version ( Here presented in a more physical, almost tribal, version, where a strong synth line is the leitmotif that links each part of the whole), composed by Trackologists, an act that won't sound familiar to many but behind which there are two important Ant-Zen and HANDS projects: respectively, The_empath and Heimstatt Yipotash, authors of No surrender, no retreat, a cerebral and out-of-bounds electro-industrial album released during this festival. Forms of Hands isn't only a festival, but also the main chance, together with Maschinenfest, for the label to present new albums from its artists, and it's not by chance that six studio albums, plus two live albums, were presented there. The listeners have here more than something to be happy for several weeks.
A kaleidoscope of different approaches to noise music: already quoted Phasenmensch are perfect for a soft and dreamy, almost ethereal, opening with a silent techno beat on the background and an ambient weaving that guarantees perfect breathing. The track is followed by the cinematographic mid tempo of Morbus M. and by a strong and uncompromising cinematographic rhythmic industrial song, Wieloryb's Veneto, straight to the point and without pauses, with a more old school approach when compared to his latest album, Semantik. The listener should feel astonished by the slow mid tempo of Spanish sonic terrorists Proyecto Mirage, here changing a bit their formula, and then we find the electro-industrial soul of Nullvektor, a '90s-inspired melodic idea, a mid tempo with distorted vocals.
Then there's space for Monolith, who has recently published his new album Domination, with his solid techno sound characterized by a gloomy mood that, with The grim reaper, show us again a variety of styles and a "rhythmic play" that seemed to be absent in his previous album Crashed. While listening to the record, the mood changes with a new Cacophoneuses song that comes back to classic rhythm 'n noise leaving apart techno music, followed by dirty and martial Le Moderniste's The advent of Asag (In Aliquem Mortuum Infundere Spiritum), in which the Belgian musician presents again, after the release of the very good Desistere mortem timere, the unstoppable and deadly buzz of the distortion that we got to love so much. 16pad noise terrorist changes, once again, the direction of the album with a very fast song characterized by broken rhythms and typical breakcore influences of the project, which pays its due to its master Dj Hidden, the artist behind the sound of its albums, and it isn't wrong to perceive his influence. IDM patterns, together with melodic ideas are at the center of Talvekoidik music, while we find low frequencies in MS Gentur's More human, this one an 8 bit-influenced and rich of noise effects,  and a mid tempo breakcore with End.user; the very classic sonic assault of Mono No Aware closes an album that presents tons of different approaches to electronic music, succeeding in satisfying the more varied tastes.
Recently, HANDS released a four-discs compilation that has portrayed the first twentyfive years of its history in the best way possible, promising the same in the future, and we only can wish this is true keeping on analyzing its music, having in mind the constant high quality of its releases and the genuinity of its intentions.
Label: Hands Productions
Rating: 8, 5